Photo courtesy of Jamie Honey
On Thursday, February 2, 2012, Yelm area resident Jaime Honey's video excerpt was selected and aired nationally on The Ellen DeGeneres Show Dance Dare.
[Editors note: This post reprinted from the Ramtha School of Enlightenment Newsletter.
Copyright 2012 JZ Knight. Used with permission.
This blog's host is Steve Klein, who is employed as the Event Services Manager for JZ Knight and Ramthas School of Enlightenment.]
Click here to see the video (Honey's video excerpt begins at 44 seconds).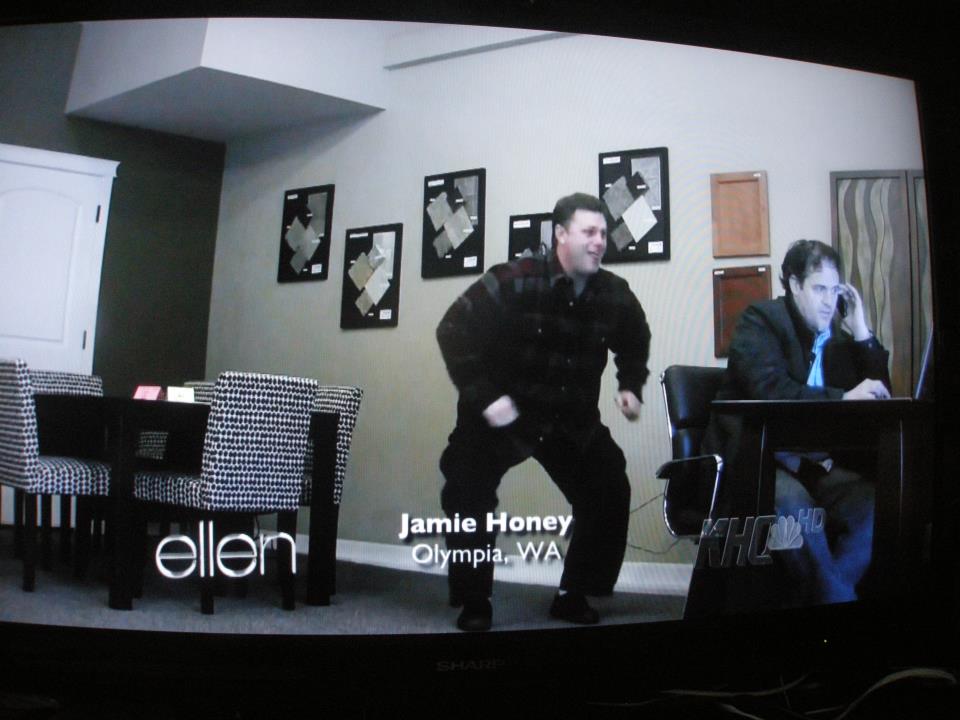 Photo courtesy of The Ellen DeGeneres Show
2012 WAD Productions, Inc. | In partnership with Warner Brothers
Introducing The Fun Pro
"Healing benefits of laughter combined with encouraging neural plasticity by challenging the mind.
Learn out of the box thinking and have fun doing it!
With Jamie Honey's Improv classes."
"Improv is for absolutely everyone!
There are so many benefits to stretching your own limits and giving Improv a try…
Science has come out with some great studies about the benefits of laughter. Laughter stimulates the mind to be in the moment, and when we are in the moment, we are more productive, creative, and healthier."
Everyone welcome. For more information,
click here
– Mr. Honey is a Guard at RSE.