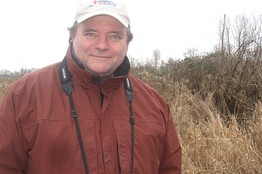 Eatonville resident & The Mountain News Publisher Bruce Smith
Photo credit: Wall Street Journal
Copyright 2012 Dow Jones & Company, Inc.
Bruce Smith's amazing story was featured in a Wall Street Journal story titled:
"If You're Stricken, Minutes Matter, Yet Many Ignore Signs, Delay Treatment"
Smith updated his learnings in these reports on his website The Mountain News:
1. Posted May 2, 2012
"Anatomy of a Heart Attack Survival and Recovery"
" Im in my eighth week of recovery from a heart attack experienced on February 26, 2012. Since then, Ive explored the murky world of aftercare, finding great relief in the Good Samaritan cardiac rehabilitation clinic in South Hill."
Read more
2. Posted May 6, 2012
– "Anatomy of a heart attack feeling the love"
"When I had my heart attack in February, 2012, I received Cadillac treatment at Good Samaritan Hospital in Puyallup, WA. Within minutes of arriving in their emergency room with severe chest pains, I received a stent to fix a 95% blockage in my circumflex coronary artery. Good Sam saved my life, and they did it with grace and a solid, well-honed professionalism.
However, when I left my aftercare was more akin to a Yugo."
Read more
Klein has known Bruce Smith for many years and features stories periodically from The Mountain News here on this Blog.