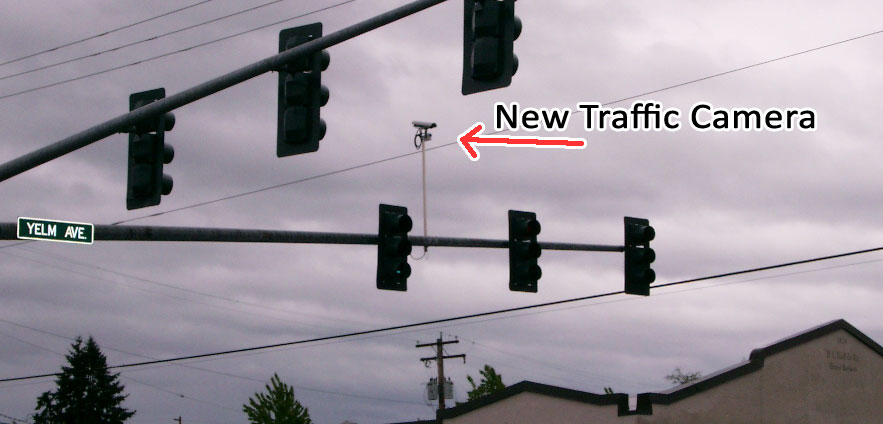 Yelm's traffic camera is located the intersection of Hwys 510 & 507
The Wolf Building is in the background
Regarding the DOT camera installed at the main traffic light in Yelm and Mayor Harding's pronouncement last week in his newspaper column that this camera is "a temporary remedy to a broken sensor in order to keep the flow of traffic moving", Devin Coldewey of MSNBC asks a great question for consideration:
DEA proposes tracking all cars on Utah highway – is your street next?
"Law enforcement officials have been systematically tracking license plates for a long time at the border, for instance. But a DEA project in Utah may be overstepping the bounds of good governance, tracking every vehicle on a major highway and sharing the data with thousands of other agencies.
"Using official or hidden cameras to snap pictures of license plates isn't a new technology by any means, though it is proliferating rather quickly. In fact, this writer got a ticket from one just last week. But they are usually restricted to monitoring traffic or borders. Recently, however, police have begun centralizing records in a number of places: Massachusetts, Connecticut, and Washington, D.C. So now a state would not only know when you crossed the border, but when you entered a city, when you turned at various intersections and which way, and it is holding all that data for up to three years.
The DEA is proposing such a system for the Utah portion of the Interstate 15 highway, citing installations in California and Texas "drug trafficking corridors" and border use. The ACLU and Utah's legislators are skeptical that such a measure is lawful or well-advised."
Editor's Note:
With the mayor's comments on so many subjects shifting like sands on a beach, can his comments about the only purpose of the traffic camera hold-up to scrutiny in 1, 2, or even 5 years from now?
Only time will tell.
We'll see what alphabet soup state or federal agency comes in here and orders Yelm's traffic camera(s) to monitor our movements, like in Utah.
Are drones here next on the agenda?
"Local Governments Have the Power to Restrict Drone Surveillance in the US"
Let's see what Yelm does on this issue!
Read more