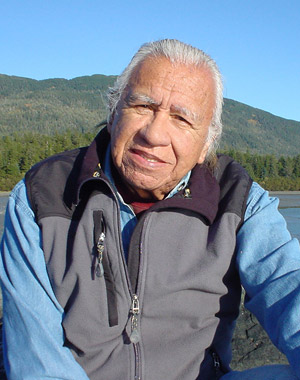 Photo courtesy Michael Harris, Legacy Project
"A biography of Nisqually tribal activist Billy Frank Jr. is being released Saturday in a ceremony at The Evergreen State College, and Frank is scheduled to speak about his Long, interesting and historically significant life.
Frank has been active in the American Indian movement to reclaim treaty rights including pitched battles along the Nisqually River over salmon harvests during the 1960s. Tribes have won major legal victories in federal courts during his lifetime to harvest salmon and shellfish, to co-manage natural resources, and to exercise other rights in a state-to-state relationship with Washington," quoting Brad Shannon in The Olympian.
Read more
From The Legacy Project run by the Secretary of State's office:
"Saturdays book launch is scheduled from 1:30 to 3:30 p.m. at The Evergreen State College Longhouse. Frank Jr. will be the keynote speaker. Secretary of State Sam Reed; Evergreen President Les Purce; Bill Wilkerson, former director of the Washington State Department of Fisheries; and Patricia Zell, former staff director and chief counsel of the U.S. Senate Indian Affairs Committee, also are slated to speak, as is the books author, Trova Heffernan, director of The Legacy Project."
Read more of Frank's biography from the State of Washington Legacy Project.