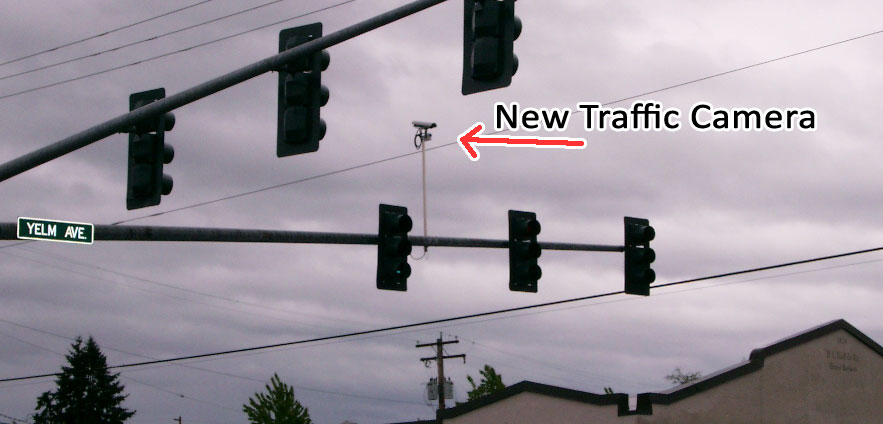 Yelm's traffic camera is located at the intersection of Hwys 510 & 507
The Wolf Building is in the background
"10 signs that the highways of America are being transformed into a high tech prison grid"
"Once upon a time, the open highways of America were one of our greatest symbols of liberty and freedom. Anyone could hop in a car and set off for a new adventure at any time and even our music encouraged us to "get our kicks on route 66″. But today everything has changed. Now the highways of America are being steadily transformed into a high tech prison grid. All over the country, thousands upon thousands of surveillance cameras watch our highways and automated license plate readers are actually being used to track vehicle movements in some of our largest cities."
"Driving on the highways of America used to be a great joy, but now "Big Brother" is rapidly sucking all of the fun out of it. Eventually, it may get to the point where Americans simply dread having to go out on the highway.
The following are 10 signs that the highways of America are being transformed into a high tech prison grid"
Read more from PressTV.
Editor's Note:
The May 22nd Yelm Community Blog entry on this was one of the most visited recently:
"DEA proposes tracking all cars on Utah highway – is your street next?"
That story also noted Yelm's new "traffic" camera.
Mayor Harding said in his newspaper column that this camera is "a temporary remedy to a broken sensor in order to keep the flow of traffic moving."
Come on, a temporary camera to fix a broken sensor?
Does anyone REALLY believe that?
What WILL the government do with Yelm's new cameras?
Will Yelm's cameras eventually be wired into the nation's surveillance grid?

Has "Big brother" arrived in Yelm?