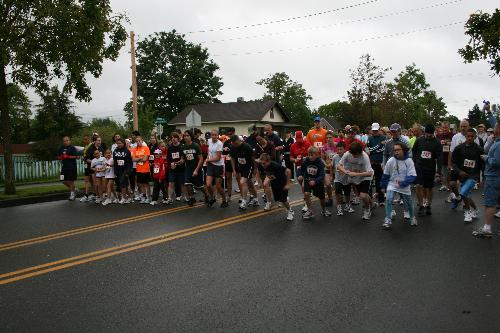 Photo courtesy: Rotary Club of Yelm
From the Yelm Rotary Club:
The Prairie Stampede is the Yelm Rotary Clubs main fundraiser for the year getting us funds for our youth programs.
What: Yelm Prairie Stampede 5k Walk/Run
When: Saturday, July 28, 2012
Where: Yelm Middle School,, 402 West Yelm Ave,, Yelm, WA 98597
Description: The 3rd Annual Yelm Rotary Club Prairie Stampede will take place on Saturday, July 28th at Yelm Middle School. The Rotary Club of Yelm is dedicated to service-in our community and in the world. The proceeds raised by the Yelm Prairie Stampede go to help fund charities and community activities that help make this world a better place to live.
Entry Fees: $25 Pre-Registration
$30 Day of Race Registration (No guarantee of t-shirt availability)
Day of race t-shirt/number pickup and registration will begin at 7:30 am at the start/finish line at Yelm Middle School. This is a certified course.
Proceeds go to help: We fund college scholarships; the Homeless Backpacks program that provides food for homeless high school students for the weekends and holidays; money for middle school teachers who often buy school supplies our of their own money for needy students; diaper drives to help teen mothers get fresh diapers for their babies instead of having to reuse them; food collections for the Yelm Food Bank; and support of the Young Life/Highway 507 organization here in Yelm.
If youd like to spend a few hours on a beautiful sunny day helping us help our beautiful community, or if you know someone who would, come out and join us.
Good fun for a good cause!
Helping our Community One Project at a Time…
Read more from KOMO-TV 4 News.