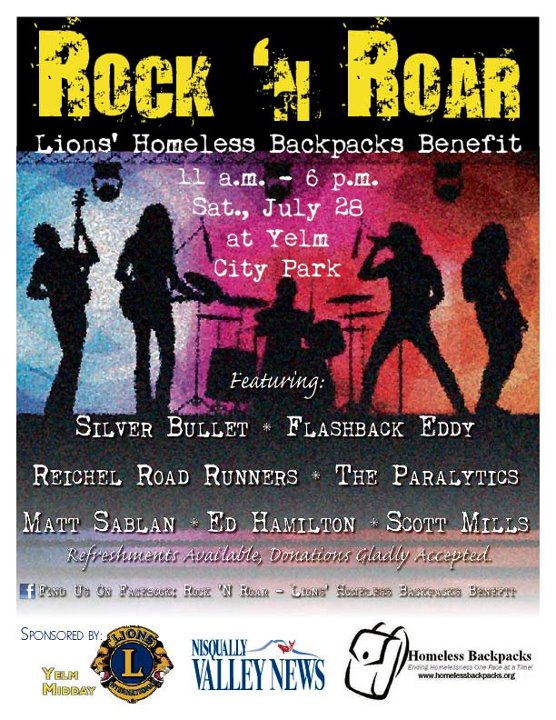 The Yelm Lions Club is holding a fundraiser at Yelm City Park this Saturday, July 28th, 11 am – 6 pm, in support of the Homeless Backpack Program.
The event is free.
Your contributions will be accepted.
Featured local musicians:
Silver Bullet
Flashback Eddy
Reichel Road Runners
The Paralytics
Matt Sablan
Ed Hamilton
Scott Mills
Read more
"Homeless Backpacks is a non-profit 501c3 corporation committed to ending homelessness, by giving teens the help they need so they can focus on school, go on to graduate and become contributing citizens.
We provide food for the weekend to homeless teens in Thurston, Mason and Grays Harbor Counties. Some teens are in government-supported meal programs during the school day, but on their own on the weekend. Each week, volunteers deliver food bags to local middle and high schools.
Each bag has enough food for the weekend, including milk, cereal, oatmeal, protein, snacks, and fruit. Students go to the counselor's or nurse's office and obtain the food, which is in a backpack or other discreet bag. That way, other students are not aware of the situation and participant privacy is preserved," quoting their website.
Read more