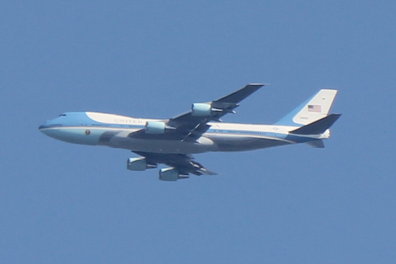 Puyallup resident Ron Bestrom's photo sent to KING-5 TV
In case you missed the stunning sight over our area yesterday and today, Air Force One had an inbound flight path Tuesday that took President Obama from Portland to Boeing Field and was clearly seen in the Bald Hills and visible looking east from Yelm. The aircraft overflew the area approximately 5:35pm, prior to the 5:50pm landing northbound in Seattle on runway 3-1.
The Boeing 747 left Boeing Field this morning and flew low, directly over Yelm as the President got a commanding tour & view of Mt. Rainiers west face before turning southeast en-route to his next stop, New Orleans.
The President was in the Seattle area for a fundraising visit.
Read more from KING-TV 5 News.