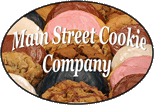 "Main Street Cookie Co. has come a long way since it opened its doors in December 2007. The business sold 23 cookies the first day, 34 the next and 42 after that, said owner Joycelyn Zambuto.
Main Street Cookie now has six employees, two manufacturing locations a retail store in Rainier and another space in the same town it sells cookies throughout the Puget Sound area to customers and businesses and a second retail location is under consideration, Zambuto said."
"Main Street Cookie Co. is open 9 a.m.-6 p.m. Monday through Friday and 9 a.m.-5 p.m. Saturdays.
Main Street Cookie Co.
Owner: Joycelyn Zambuto
Location: 112 Binghampton St., Rainier
Years in business: Almost five years.
Products: Cookies.
Employees: Six.
Online: mainstreetcookies.com
Did you know? Main Street Cookie Co.s cookies can be found at Metropolitan Markets, Mud Bay Coffee, Batdorf & Bronson, Bayview Thriftway, Stadium Thriftway and Forza Coffee Co., to name just a few," quoting Rolf Boone in The Olympian.
Read more