LOCAL BOOKSTORE OWNERS PUBLISH NEW BOOK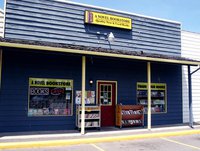 Robert and Janice Maddox owners of the Yelm A Novel Bookstore have published a non-fiction book titled Deep Origin Healing: and the Origin of Personality.
Quoting the website:
"DEEP Origin Healing and the Origin of Personality Distortion draws from differing world views to gain new insights into transpersonal healing. The emotional process/energy paradigms that define character structures were originally outlined in the groundbreaking work of Dr. Wilhelm Reich, a student of Freud, and those who followed: Alexander Lowen (Bioenergetics), Dr. John Pierrakos (Core Energetics), Eva Pierrakos (Pathwork), Donovan and Susan Thesenga, Barbara Brennan, Dr. Alima Hamilton, and others.
The development of these emotional/energy paradigms began the process of bringing awareness and integration of unconscious emotional patterns to people who were looking for a deeper understanding of human dysfunction. These psychological and transpersonal energy-based paradigms look at the root causes of suffering on an individual level.
To this process DEEP Origin Healing integrates Rev. Sun Myung Moon's profound explanation of the fall of man, described in the Divine Principle, as the original separation humanity experienced from God and, therefore, the source of human suffering on an historical level."
Read more
The book is available from Amazon.com or Create.Space.com.
Support one of our local booksellers by visiting A Novel Bookstore, across from Yelm City Park and next door to Lemuria.
The book's website: www.deeporiginhealing.com