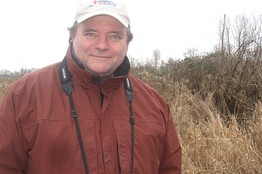 Eatonville resident & The Mountain News Publisher Bruce Smith
Photo credit: Wall Street Journal
Copyright 2012 Dow Jones & Company, Inc.
"In response to tremendous pressure from Republicans to return monies donated by Ramtha channel JZ Knight, local Democrats are grabbing a middle ground and giving the money to charity. The action comes as Republicans are in an uproar over videos released this week that show Ramtha giving a profanity-laced teaching condemning the Catholic Church and priests who rape children. The videos are quite provocative and disturbing to many, and one video also castigates Catholics of Mexican descent.
Bruce Lachneys campaign announced today that he is giving his money to unspecified educational scholarships. Mr. Lachney is running for the Washington state senate from the 2nd Legislative District and an official in his campaign has confirmed that it received $3,600 from Ms. Knight. Lachney is challenging the incumbent, Randi Becker (R) from Eatonville."
"The Lachney-Becker race is considered very close, which is surprising since Beckers seat was once-considered safe for her re-election, and Republicans are pouring money into her campaign."
Read more