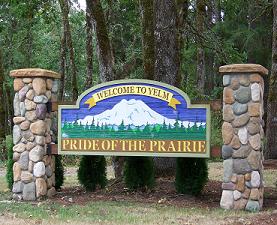 – "Thurston County panel reveals 'State of the Community'"
"Panelists were Thurston County Commissioner and the four mayors of Thurston County's main cities: Virgil Clarkson of Lacey; Stephen Buxbaum of Olympia; Pete Kmet of Tumwater; and Ron Harding of Yelm," where the "State of the Community" for 2013 was the topic."
"For the county as a whole, Romero cited progress in job growth; environmental issues such as water quality; extreme weather solutions; community health processes, and assistance to the county's homeless population."
"For Yelm, Mayor Ron Harding said many of his city's hot-button issues parallel those of others around the county, and that these challenges often work their way down to the local businesses level. He encouraged partnerships between local government and business in finding solutions.
'(Businesses) can continue to be that important voice. We want them to continue to engage us, and help us find that balance,' he said,'" quoting the Business Examiner.
Read more
– "Tumwater tops in Thurston County for 3Q growth in retail sales"
"Yelm City Administrator Shelly Badger said the citys retail-sales growth has remained consistent, helped by a stable retail environment, steady home-building about 100 new residential building permits were issued last year and the fact that Yelm draws shoppers from other rural communities, such as Roy, McKenna, Rainier and Tenino.
Here are the overall taxable retail results for the county and its largest cities in the third quarters of 2012/2011:
Thurston County: Rose 3.75 percent to $987.9 million from $952.2 million.
Tumwater: Rose 19.68 percent to $129.8 million from $108.4 million.
Yelm: Rose 9.51 percent to $40.9 million from $37.3 million.
The state Department of Revenue releases a separate category of retail-sales results called retail trade, which is considered a better measure of consumer purchases.
Tumwater did well in this category, too.
Here are the results for the same third-quarter period:
Thurston County: Rose 7.81 percent to $520.6 million from $482.9 million.
Tumwater: Rose 28.7 percent to $75.2 million from $58.4 million.
Yelm: Rose 6.44 percent to $24 million from $22.6 million," quoting Rolf Boone in The Olympian.
Read more
Editor's Note: While Yelm had a robust third quarter, 2012 in taxable retail results, Yelm continued to lag the County in retail trade growth.
– "Washington 36th in tax-to-income ratio"
"Relative to income, people in 35 other states pay higher taxes than Washington residents, according to a Census Bureau data published by the Washington State Department of Revenue.
In 2010, Washingtonians paid $96.08 in state and local taxes for every $1,000 in income. That rate is the second lowest in 50 years, just below the $93.24 per $1,000 that state residents paid the year before," quoting the Business Examiner.
Read more