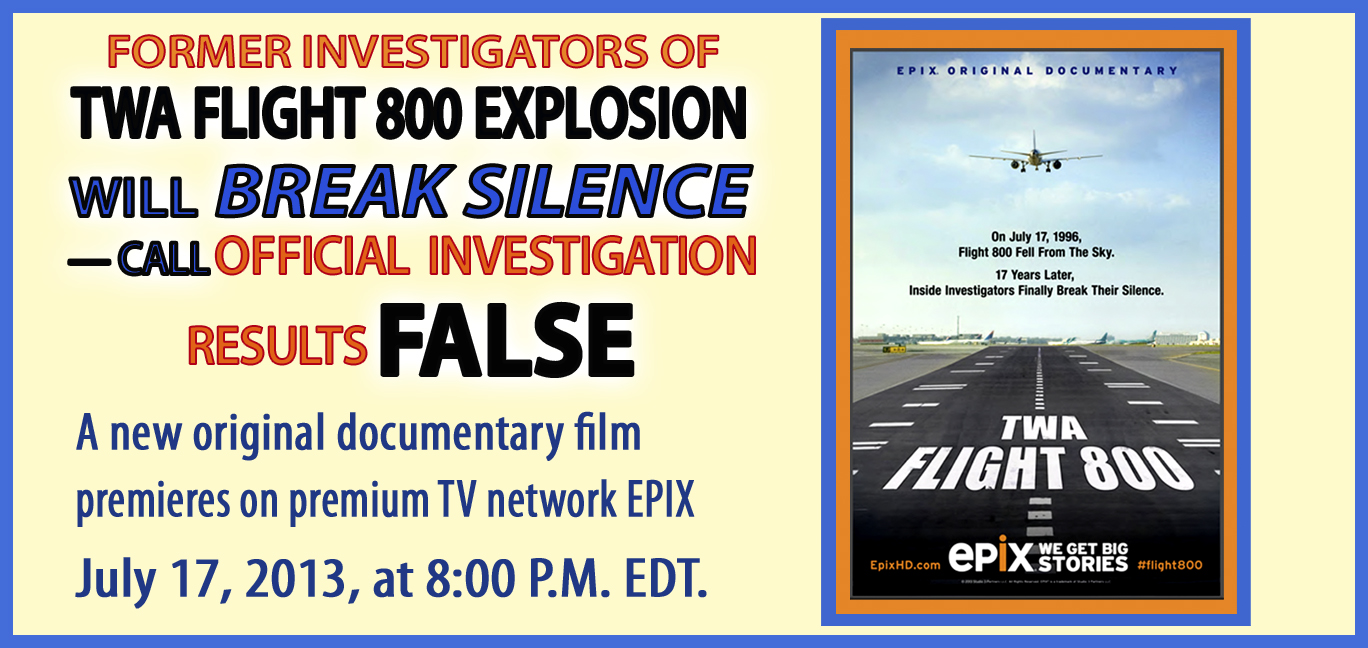 "A 90-minute documentary, 'TWA 800,' which premieres on the Epix cable channel on Wednesday [July 17], the 17th anniversary of the disaster, argues that the jumbo jet was downed by missiles and alleges a high-level cover-up," quoting The Raw Story.
Read more
Read more from flight800doc.com/
Editor's Note:
I remember former military intelligence remote-viewer David Morehouse explaining his views about TWA 800 when he visited Yelm a year after the crash as a Ramtha School of Enlightenment guest speaker in 1997 (see his interview below).
After Anderson Cooper's report on CNN which recently re-aired (originally broadcast in 2006), Morehouse's information all makes perfect sense.
"Former military intelligence remote viewer David Morehouse shares his insights into accessing multi-dimensional reality, and reveals disturbing details on the downing of TWA Flight 800."
TWA FLIGHT 800 – TARGET PRACTICE GONE WRONG
"It was like turning a 747 into a microwave oven."
That's how David Morehouse explained what happened to TWA Flight 800, after he delivered a remote-viewing report for CBS News – a report which was never aired.
"We originally started at the request of a producer at CBS to work in consonance with them to investigate the downing of Flight 800," explains Morehouse.
"We used a team of six remote viewers. After having gone back in time and looked at the event, five of them did not say that a missile struck the aircraft, but said that it was an energy beam or a light beam and that the aircraft exploded. It was a light beam that could not be seen by the human eye. It was high-powered microwaves.
"We did a 32-page report for CBS on it; a lengthy investigation. We used a law enforcement liaison officer who was a retired US city cop. I was dealing with Ph.D.s who owned patents on fiber optic cables.
"It goes right back to the CBW thing in the Gulf War [the cover-up of chemical/biological warfare by the Pentagon]. The first thing that came out of the Navy was, 'We had no exercise going on, none whatsoever.' I saw the message from the Department of the Navy to the FAA [Federal Aviation Administration] that said that from this time to this time-which was a time window that included the departure time of Flight 800-there was an exercise going on.
"The microwave that we think did it was built by Phillips Laboratories. It's about the size of a Ryder truck, a moving truck about that size, which produces 1.4 gigawatts, a billion watts of power in a concentrated stream of electrons that are guided by a self-generated electromagnetic field. The footprint of this particular weapon can be anywhere. They can tweak it up or down. They can crank it down to a footprint the size of a basketball. They can expand it out to a footprint the size of a football field. Of course, the more you disperse the electrons, the less effective the beam is, but it's still pretty nasty stuff."
Morehouse, of course, had to deal with the usual denial."
Read more