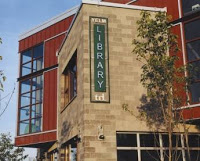 Yelm's Timberland Regional Library, 2nd floor
This story was posted July 24th in The Olympian:
"According to the recent Pew Research Centers Internet & American Life Project, young people are voraciously reading books and using libraries, contrary to popular belief. In fact, the Pew research revealed no significant difference in library use between young people 16-19 and older adults.
Teens and 20-somethings visit libraries as often as older adults, and are just as likely to take home a book. While in a library, they are more likely to use computers and to just hang out there, often to study.
They are, however, less likely to require the services of a librarian.
Timberland Regional Library is noticing similar trends in its branches spread across five South Sound counties."
Read more here: http://www.theolympian.com/2013/07/24/2635801/libraries-help-level-economic.html#storylink=cpy
Read more