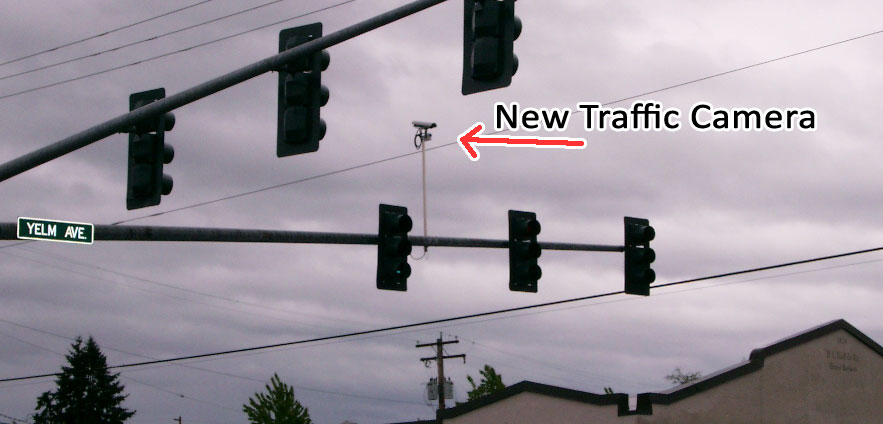 Yelm's "temporary" traffic camera is located at the intersection of Hwys 510 & 507
The Wolf Building is in the background
Editor's note:
In Spring, 2012, Mayor Harding said in his NVN newspaper column that the camera pictured above is "a temporary remedy to a broken sensor in order to keep the flow of traffic moving."
How many months does the City of Yelm need a temporary camera to fix a broken sensor?
A year-and-a-half later and the camera still has not been removed.
Is Yelm's camera wired into the nation's surveillance grid?
Has "Big Brother" arrived in Yelm, thanks to Mayor Harding?
– Gil Aegerter filed this report for NBC News:
"License plate recognition technology developed for law enforcement and embraced by the auto repossession industry is being opened to wider use through a Florida company that lets its clients track the travels of millions of private vehicles adding to privacy advocates concerns that such data could be used improperly.
TLO, an investigative technology company in Boca Raton, Fla., began offering the search service to its private industry clients in late June, saying it taps into a database of more than 1 billion records collected by automatic license plate readers.
A report earlier this week by the ACLU found that U.S. law enforcement agencies are scooping up droves of data using license plate readers, creating massive databases where more than 99 percent of the entries represent innocent people."
Read more
– "Driving somewhere? There's a gov't record of that"
"Chances are, your local or state police departments have photographs of your car in their files, noting where you were driving on a particular day, even if you never did anything wrong.
Using automated scanners, law enforcement agencies across the country have amassed millions of digital records on the location and movement of every vehicle with a license plate, according to a study published Wednesday [July 17] by the American Civil Liberties Union. Affixed to police cars, bridges or buildings, the scanners capture images of passing or parked vehicles and note their location, uploading that information into police databases. Departments keep the records for weeks or years, sometimes indefinitely," quoting the AP.
Read more