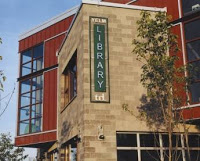 Yelm's Timberland Regional Library, 2nd floor
Local Yelm-area authors Bettye Johnson and Jean Handley have accumulated books by other local authors to be on-display at the Yelm Library from September 3-30, 2014. They were assisted by Bobbye Caine and Sam Ballinger.
This area has much talent, as you can see reflected in these titles:
1. Journey of a Dogman
by Annemarie Schoone
Click here
2. No Excuses: My Plea for World Peace
by Bertha Rainen
Click here
3. A Christmas Awakening, Awakening the Genie Within, An Uncommon Education, Secrets of the Magdalene Scrolls, Mary Magdalene, Her Legacy
by Bettye Johnson
Click here
4. A Letter to Trevor – Life 101 for Children
by Delores Crowell
Click here
5. Gabby's Wordspeller Phonetic Dictionary
by Diane Frank
Click here
6. Elocin: An Extraordinary, Magical Life
by Elocin
Click here
7. Disguised Blessings
by Jeanne Callahan Trantel
Click here
8. I Can Be Me
by Jean Handley
Click here
9. DEEP Origin Healing: and the Origin of Personality Distortion (Volume 1)
by Robert Maddox, Janice Maddox
Click here
10. Clouds for Breakfast
by Laura Eisen
Click here
11. Dont Go to Sleep
by Lanakila Washington
Click here
12. If I Had A Farm (Volume 1)
by Linda D. Horn
Click here
13. I Am A Woman, I Am A God
by Louise Oliverio
Click here
14. Revolutionizing Your Health: Getting Beyond the Programming of Big Medicine
by Marvin Kunikiyo
Click here
15. Jack & Mops Magical Adventure
by Pam A. Paizs
Click here
16. Your Amazing Mind, Yoga Therapy, How to Speak With Your Power
by Roberto Mazzarella
Click here
17. The Butterfly Chase, Ting Shooting Stars
by Susan Glenn Lampe
Click here
18. Finding the Goddess Within
by Suzanne Fairbrother PhD
Click here
19. Science You-unified
by Suzanne Nichols
Click here
&
The Life and Times of Schrodinger's Cat
by Suzanne Nichols
Click here
20. The Man Behind the Cardboard Sign
by Viola Dougherty
Click here
21. One Small Giggle
by Molly Piper (pseudonym)
Read more
22. The Heart of the Matter: A Simple Guide to Discovering Gifts in Strange Wrapping Paper
by Cate Montana
Read more
23. Axicala Aliqu: The Sacred Song of Life
by Karriem H. Ali, MD
Read more
24. Ramtha & Me: One Woman's Journey in a School of Ancient Wisdom
by Amber R. Wiltsie
Read more
25. A State of Mind – My Story
by JZ Knight
Read more
26. Journey To My Master Teacher
by Renee Webb
Read more
27. What the Bleep Do We Know!?
by William Arntz, Betsy Chasse, Mark Vicente
Read more
28. Evolve Your Brain: The Science of Changing Your Mind
by Dr. Joe Dispenza
Read more
&
Breaking the Habit of Being Yourself: How to Lose Your Mind and Create a New One.
by Dr. Joe Dispenza
Read more
29. My Journey into Freedom – Confessions of an Initiate
by Cordula Herzog-Hill
Read more
30. Herzog-Hill's late husband's book: Playing with a Full Deck
by T.D. Hall, PhD
Read more
31. The Phoenix Chronicles: Oath of the Phoenix.
by pen name, Alec Martin
Read more
CONGRATULATIONS to all of these authors on their achievements.
UPDATE: September 13, 2013
"Books by Local Authors on Display at Yelm Library"
By Steven Wyble in the Nisqually Valley News.
Read more