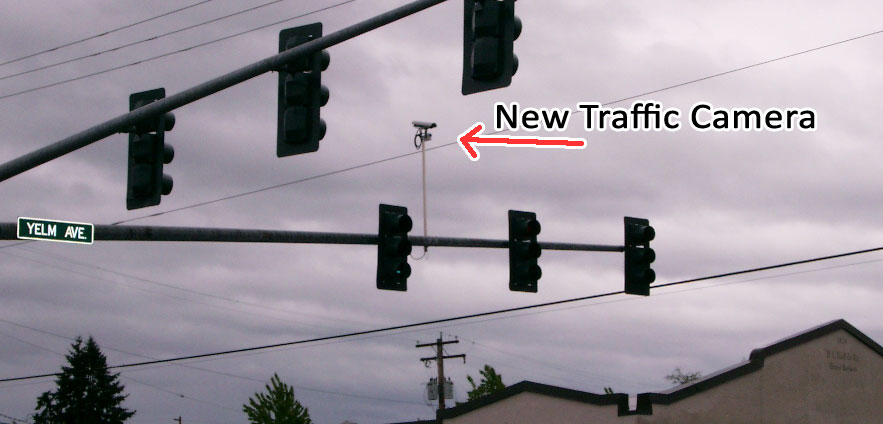 Yelm's "temporary" traffic camera is located at the intersection of Hwys 510 & 507
The Wolf Building is in the background
Editor's note:
In Spring 2012, Mayor Harding said in his Nisqually Valley News mayor's column that the camera pictured above was
"a temporary remedy to a broken sensor in order to keep the flow of traffic moving."
Mayor Harding owes all Yelm-area citizens an explanation on how many years are required for the City of Yelm to fix a broken sensor and remove the "temporary" camera!
Or, come clean and tell the public the purpose of a once-temporary camera –
– who is the city tracking?
– is this "temporary" camera connected to the surveillance grid?

"MONTANA PROHIBITS AUTOMATIC LAW ENFORCEMENT CAMERAS AFFIXED TO STOP LIGHTS"
"In an era of government surveillance, Montana stands out as a state that respects privacy and is dubious of the federal government tracking its citizens.
In 2009, Montana prohibited the use of automatic law enforcement cameras affixed to stop lights. Similarly, the state also refused to comply with Federal Real ID laws."
Read more from Rep. Nick Schwaderer, R-Superior / Montana.