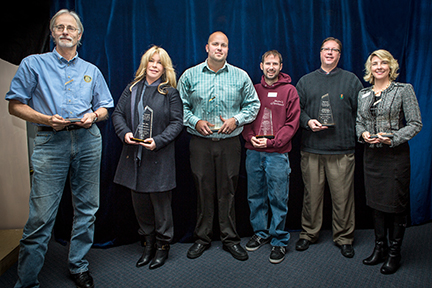 2013 Yelm Chamber Award honorees:
Tom Dewell, JZ Knight, Joseph Bravo, Jason Witherow, Michael Wagar, Ronelle Funk. Photo credit: Barbra Kates Photography, www.barbrakates.com
Reprinted from the RSE-Newsletter,
Copyright 2013 JZ Knight. Used with permission.
On Tuesday, December 10, 2013, winners accepted the Yelm Chamber of Commerce 2013 Business of the Year award in various employee-numbers based categories at the Forum luncheon meeting's award ceremony. Yelm Chamber Executive Director introduced the awards and Mayor Ron Harding was on hand to make the presentations and shake hands with each of the winners, followed by Chamber President Ronelle Funk adding her congratulations to the honorees, as well. Funk reported this was the first year that Chamber members sent in their nominations for award winners, where formerly the Chamber's Board selected the annual recipients.
JZK, Inc. President JZ Knight and Nisqually Valley News Publisher/Editor Michael Wagar brought their entire staffs to the luncheon presentation, which added to camaraderie of the monthly meeting.
The complete list of 2013 Honorees:
Business of the Year (0-5) Allstate Insurance, Ronelle Funk
Business of the Year (6-10) Nisqually Valley News, Michael Wagar
Business of the Year (11-20) Jasons Greenhouse, Jason Witherow
Business of the Year (21-49) McDonalds of Yelm, Joseph Bravo
Business of the Year (50+) JZK, Inc., JZ Knight
Non-Profit, The Rotary Club of Yelm, Tom Dewell, President
Chamber Volunteer of the Year, April Sage, KeyBank
Citizen of the Year, Cecelia Jenkins, Yelm Chamber Executive Director

Blog writer Steve Klein has been employed by JZK, Inc. for 10 years and a Yelm resident for 25+ years.
Click here for the NVN story posted December 16, 2013