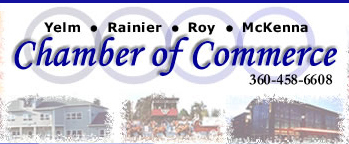 From the Yelm Area Chamber of Commerce:
Chamber Forum Luncheons changed back to second Tuesday of each month beginning with the April Forum.
Tuesday, April 8, 2014
Forum Luncheon
Speaker … Tami Merriman, Associate Planner for the City of Yelm Community Development Department, with the City since 2001, having previously worked for the City of Ocean Shores. Tami does both short range planning – reviewing current development permits, as well as long range planning – updating comprehensive plans and development regulations. Input from Businesses Requested!
The luncheon presentation is designed to announce the Draft Unified Development Code. The Community Development Department has reformatted current development regulations into a unified document, and is reaching out to the community for comment.
[While the City of Yelm is approaching businesses at the Chamber, will they have a public forum on changes to the Unified Development Code?]
The Forum Luncheon will be held at the Prairie Hotel Conference Center. The cost of the luncheon is $15.00 – advanced registration requested. Casa Mia Restaurant will be providing the luncheon with serving starting at 11:30 a.m. Advanced registrations: (360) 458-6608 – Chamber Office, info@yelmchamber.com … Visa/Master Card – $15.00 or Checks payable to: Yelm Area Chamber of Commerce.