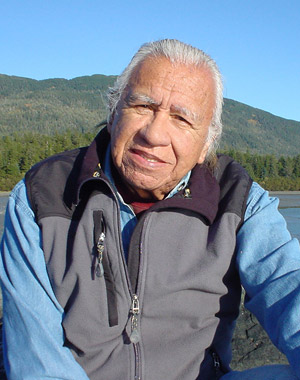 Photo courtesy Michael Harris, Legacy Project
"Billy Frank Jr., the tribal fisherman who led the Northwest "fish wars" that helped restore fishing rights for American Indians four decades ago, died Monday at age 83.
The Northwest Indian Fisheries Commission and the Nisqually Tribe near Olympia confirmed his death. The cause was not immediately known.
'He was a selfless leader who dedicated his life to the long fight for the rights of our state's native people'" Gov. Jay Inslee said in a written statement. 'Billy was a champion of tribal rights, of the salmon, and the environment. He did that even when it meant putting himself in physical danger or facing jail,'" quoting the AP.
Read more
– JZ Knight comments on the passing of Billy Frank, Jr.
Click here
– "Editorial: Billy Frank Jr. spoke for salmon, tribes and the natural environment"
"Nisqually tribal elder Billy Frank Jr. was a tireless advocate for dignity and respect for all living creatures. He is a true figure of Northwest history," quoting the Seattle Times.
Read more