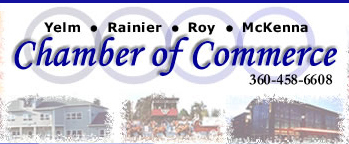 Today at 11:30am the Yelm Chamber of Commerce will host a Forum Luncheon for members with a talk by Guest Speaker Rep. JT Wilcox with a legislative update.
Wilcox is also a candidate up for re-election, which suggests the Yelm Chamber should also provide a Forum Luncheon for his opponent, Libertarian Steven Nielson.
Editor's note:
Hmmmm – will they invite candidate Nielson is yet to be seen.
The Yelnm Chamber certainly will not announce to their members today that they have invited Mr. Nielson to share his views with their members.
Wilcox should also be asked today for his views on the recent citation by the Department of Labor & Industries (L&I) for safety violations related to a fatal silo collapse last December at the Wilcox Farms Feedmill Inc. in Roy.
After all, Rep. Wilcox lists he is from Yelm, yet resides and operates a business in Roy, Pierce County.