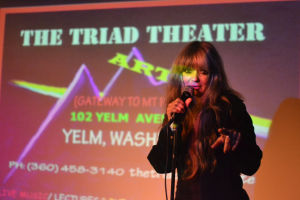 Calamity Jayne
Photo credit: Steven Wyble, Nisqually Valley News
"Triad Hosts Open House"
"From Prison To Las Vegas: Its Been a Long Road To Yelm for Triads Calamity Jayne"
By Steven Wyble in the Nisqually Valley News.
"The Wolf building is the home of Yelms Triad Theater, an epicenter of all things arts. Whether its theater, cinema, music or more, its been at the Triad at some point.
The theater is getting the word out with a Yelm Area Chamber of Commerce open house event 5-7 p.m. July 8. The theater is located at 102 Yelm Ave. E. and entry is through the side door.
'The open house at the Triad Theater is an opportunity for the community to come and visit during daylight hours,' said the Triads Jayne.
Samples of the activities the theater hosts will be on display, she said. That could include everything from live musicians, theater performances, film screenings, poetry readings and scientific lectures."
Read more
THIS WEEK AT THE TRIAD –
– Tuesday July 8th @ 5 p.m. to 7pm: Open House!
See what youve been missing! We will feature refreshments, entertainment and mingling! Its your community theater! We will feature samplings of what we normally offer. We want to share with the community at large some of the diverse talent we have here in Yelm! Come at 5 and stay until 7 or just pop in for a while! Our doors will be wide open to welcome everyone!
Free
– Friday July 11th @ 7:30pm: Hello, Jerry!
A SRO production directed by Nancy Tribush Hillman
Jerry Herman is an American composer and lyricist, known for his work in Broadway musical theater. He composed the scores for the hit Broadway musicals Hello, Dolly!,Mame, and La Cage aux Folles, among many others. Our show will pay tribute to him! We will have our ladies singing their thanks to Jerry in this unique send-up!
Click here for details
Admission $15
– Monday July 14th matinee @ 3:30 & evening @ 7:00 –
Annie Meets the Monsters
A SRO production directed by Nancy Tribush Hillman. This is a musical extravaganza that will showcase local talent ages 8-18! A mixture of familiar songs and some not so familiar, along with characters that you may recognize! Come enjoy Summerstruck!
Click here for details
Tickets: $10 adult, $5 children