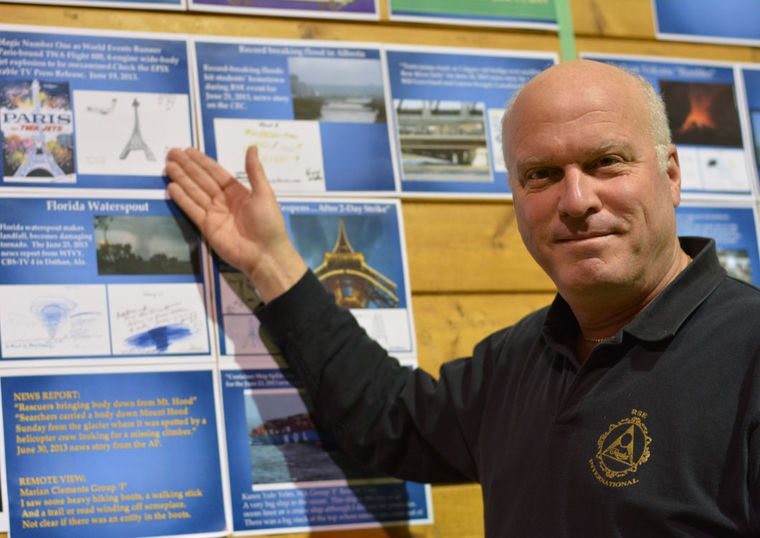 Steve Klein
"Steve Klein points to a remote viewing exercise he completed at Ramtha's School of Enlightenment. Klein is retiring from his position as event services manager at RSE."
Photo courtesy: Steven Wyble / Nisqually Valley News
"Klein Retiring From RSE in January"
"Longtime JZ Knight Aide Will Remain Active in Yelm Issues"
By Steve Wyble, Nisqually Valley News:
"While Steve Klein is retiring from his job as event services manager at Ramthas School of Enlightenment, hes etched a place for himself in the Yelm community. He isnt going anywhere.
Sitting in RSEs arena on Tuesday [December 16], where the school hosts its lectures during events, Klein reflected on his career, his vision for Yelm, and how he plans to stay busy after his career at RSE is over.
Klein will retire this January after having worked at RSE for 10 years. He felt it was time to say goodbye to the school as an employee, although hell continue to be involved, including as a student.
'I think you have to follow where your passions lay and its very distressful when you dont follow your soul and what you feel in your soul,' he said."
"Klein moved to Yelm in 1988 from San Francisco. He was done with the corporate world and retired from the airline industry, he said.
Klein said Yelm is an eclectic community, strengthened by the talent, creativity and passion to help others exhibited by its residents.
'Regardless of my political differences with some of the politics here, one thing I know is that every person thats here wants the best for this area and thats wonderful,' he said."
"Future Plans"
"Klein doesnt have any big plans post-retirement, he said. He expects to continue with his current activities and theres a lot of them. He posts regularly on his blog, www.yelmcommunity.org, is a member of the Yelm Business Association and Yelm Area Chamber of Commerce, and is interested in city and county issues, he said.
One of Kleins main concerns for the Yelm community is the city is growing without following the Yelm Vision Plan from 1995, which he said the Yelm Area Chamber of Commerce paid $30,000 for, to guide the city in planned growth.
Hell also keep his eye on the need for industry growth and water, air and traffic problems, he said."
Read more
Click here to read the full text of the story (scroll down to bottom).
Copyright 2014 Lafromboise Communications, Inc.
Used with permission can not be republished for commercial use/advertising.
Blogger Klein is an 11+ year employee of JZK, Inc. and beginning his 30th year as a student of Ramtha.