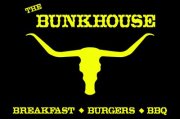 Editor's Note:
Yesterday I noticed that the signs were gone and the shades drawn at Todd Skinner's Bunkhouse Restaurant on the west end of the city limits. This morning I stopped by and a lady answered the door and said the Bunkhouse had closed and new management would be announced "by the end of the month."
Skinner is a former Air Force cook and had owned of The Bunkhouse in McKenna, relocated the business to Yelm and temporarily operated a second restaurant, Big Daddy's on the Green at the Tahoma Valley Golf Course. He was also a former director of the Yelm Chamber of Commerce.
The Yelm Community Blog thanks Todd for his contributions to Yelm and sends best wishes in his next endeavor.