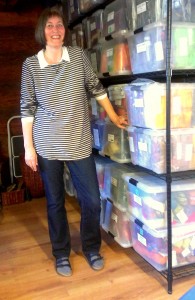 "Tanja Baucken, pictured here with many of her products,
enjoys being able to operate a home-based business
with Living Dreams Yarn & Fiber." Photo courtesy: Thurston Talk
"Living Dreams Yarns & Fiber Keeps Ancient Craft Alive in the Digital Era"
"What happens when a timeless art meets the accelerated world of cyberspace? Ask Tanja Baucken. Her Rainier-based online business Living Dreams Yarns & Fiber is taking a distinctly 21st century approach to the art of spinning, felting, knitting and crochet.
All of her yarns and fibers are locally milled and either hand-dyed or made in really small batches to unique specifications."
"Living Dreams currently sell their products exclusively in their three online stores on Amazon, eBay and Etsy. The company also maintains a presence on Facebook. 'We have over 1,000 product listings out there on the world wide web that constantly need to be updated and maintained. On a typical day there are people in the office taking care of customer service, marketing, advertising and shipping.'
Customers order from as far away as Norway, Malta, Australia and Dubai 'and we usually ship within 24 hours,' says Baucken," quoting Thurston Talk.
Read more