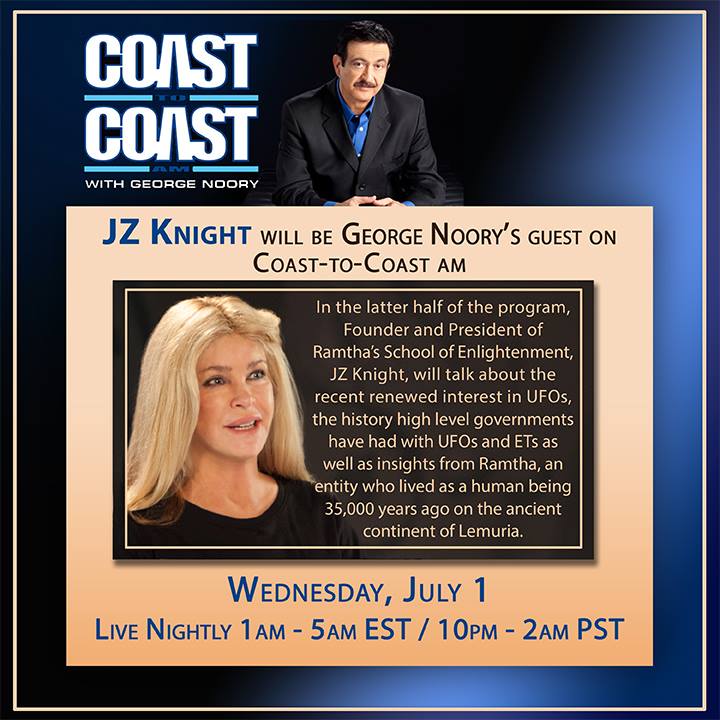 Coast-to-Coast AM with George Noory conducted a dynamic 2 hour interview with JZ Knight on Wednesday, July 1. This international listening audience was also introduced to RSE in Yelm, WA.
Click here to listen to the show archive (registration fee required).
In the latter half, founder and President of Ramtha's School of Enlightenment, JZ Knight, will talk about the recent renewed interest in UFOs, the history high level governments have had with UFOs and ETs as well as insights from Ramtha, an entity who lived as a human being 35,000 years ago on the ancient continent of Lemuria.
"Ramtha describes something he calls "The Great Intimidation," in which UFOs will appear in the sky, simultaneously around the world from horizon to horizon. This will be instrumental in changing the structure of our societies and possibly halt a war in the Middle East, Knight suggested. She shared Ramtha's interpretation of the odd trumpet sounds people have been hearing around the world– the cause is the sound made by cloaking devices on huge spaceships when they materialize or disappear. Ramtha also issued a prophecy that he would make a crop circle appear. According to Knight, such a formation occurred in Wiltshire, England in July 2011, featuring a pipe smoking alien and headdress with seven levels of consciousness (see Show Page graphic).
Read more
The program was also simultaneously carried live and streamed on KIRO 97.3 FM radio in Seattle.