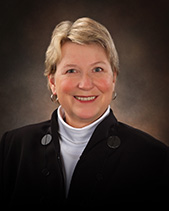 Sandra Romero
On December 30, two-term Thurston County Commissioner Sandra Romero announced she will serve the remainder of her 2016 term and not seek re-election.
– ROMERO'S PRESS RELEASE EXCERPTS
"I'm not going away,"
"I will continue to serve our community and work to protect the environment we all want our children and grandchildren to cherish."
She added that post-term, she will spend time with her family and husband Fred, a retired Washington States Park employee, and traveling.
– BIO
After her service as a member of the Olympia City Council from 1989 to 1991 and as a 22nd District State Legislator from 1993 to 2004, she was elected as a Thurston County Commissioner in 2009.
Commissioner Romoero served on a unique all-female County Commission for many years with colleagues Cathy Wolfe and former Commissioner Karen Valenzuela. Commissioner Wolfe previously announced her retirement from a 24 year stellar career of public service when her term concludes at the end of this year.
Click here for Commissioner Romero's Bio.

– CURRENT STATUS
Romero summed-up her decision to retire saying, "the budget is solid, the jail is recently opened and the County's work force is stable."
She added that she is "most satisfied with the course the County has set for conservation of our region's natural beauty while allowing prudent and sustainable growth," the release states.
– PRESS RELEASE LISTING OF ROMERO'S ACCOMPLISHMENTS
In her legislative work, Romero demonstrated her commitment to the needs of working-class people in achieving passage of the State Employees Collective Bargaining Act, while serving as Chair of the House State Government Committee.
Romero's passion for open government and involved citizens is demonstrated by her regular Coffee Chats, held throughout the 2nd Commissioner District, which assist in opening the government process to more people. "The chats have given me insights into my district and rural Thurston County that I could not have gained staying at my desk in the county courthouse," she said. "Citizens of Thurston County currently have a government that responds to their needs, a staff that is as professional as any other public employees with whom I have worked. Most importantly, citizens can be assured the county has a fiscal base with which to grow and continue to provide needed services."
When asked about her successes, Commissioner Romero said, "Protecting our environment, preserving our history and maintaining a quality of life unique to Thurston County are my most pleasurable accomplishments. Olympia's Main Street program, creation of Heritage Park, involvement in the development and opening of our countywide trail system, protecting animals from abuse, and the creation of the County's off-leash dog park make me proud."
Most recently, Commissioner Romero has been an active leader in the preservation of agricultural land and creating a strong agritourism program which includes a 60+ mile tourist route called the Bountiful Byway, through rural Thurston County.

Editor's Note:
I applaud Commissioner Romero's decades-long commitment to public service and wish her much enjoyment in her final year as County Commissioner.

– UPDATE: January 5, 2016
"Potential candidates surface for Thurston County Commission"
"Former Sheriff Gary Edwards says he'd run as an independent"
"Lacey City Council member Michael Steadman 'mulling it'"
"Sen. Fraser: Romero has served 'during exceptionally difficult times'"
From Lisa Pemberton, The Olympian.
Read more

Blogger Klein is a Commissioner Romero supporter and campaigns contributor, including sponsoring Yelm Public Forums and door-belling in Yelm for her elections.