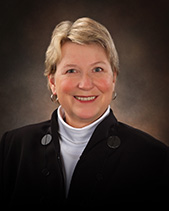 Sandra Romero
Editor's Note:
The most cogent, clear report I've seen on this issue.

– Thurston County Commissioner Sandra Romero County's Gopher Screening Process, May 26, 2016
"For Thurston County, the job of administering land use and building permits is about more than meeting the requirements of state and federal laws or county ordinances. It is about maintaining and improving quality of life for county residents.
Most land use regulations do not originate at the county level, and very few of them come to the county from state or federal officials with clear explanations of how they should work.
When county staff work through complex federal laws and state rulings regarding water or land resources, they research the science, the case law, and what other jurisdictions are doing to create solutions. We also get community members involved in finding solutions.
In fact, there are more than 800 community members volunteering their time on 40 county boards and commissions. These are your neighbors and friends working alongside staff and commissioners to figure out the best way to write and implement codes and ordinances.
The county also typically holds larger meetings where community members learn about and discuss these proposals. In these meetings, we talk about the information we have and look for ways to accurately and legally move forward. It's easy for misunderstandings to happen in this learning process.
In the case of the county's gopher screening process and habitat conservation planning I'd like to address some of the possible misunderstandings.
1. The county did not put the Mazama pocket gopher on the Endangered Species List, the U.S. Fish and Wildlife Service did. The county doesn't have an endangered species list. We protect state and federally listed species, and can designate species of local importance. But we do issue construction permits for activities that could harm the listed species, so the county implemented a screening process (which the Growth Management Hearings Board just upheld). The ESA is a 40-year-old act of Congress (which makes it a federal law). The requirements and prohibitions in the ESA extend to public and private property. One of the main reasons the county implemented the gopher screening is to protect itself and our permit holders from liability under federal ESA laws. Those laws are pretty strict. Especially the definitions of what you can and can't do to impact a protected species. Check them out here: www.fws.gov/endangered/laws-policies/section-11.html
2. You can get a permit and develop land in Thurston County. If you drive around in town or in the country, you'll see new homes and buildings under construction. Our county is growing. Of the more than 4,200 total permit applications the county received in 2015, gophers were found on fewer than 1 percent.
3. You don't need any type of county permit to buy or sell property in Thurston County. If you read the local newspapers, you'll see articles about the pace of real estate sales and current inventory. For more information, contact the Thurston County Realtors Association. These pros are helping buyers and sellers understand how to work with county regulations, if necessary.
4. The County has no gopher tax. This misunderstanding probably originated with this presentation about habitat planning: www.co.thurston.wa.us/planning/hcp/docs/board-briefing-habitat-conservation-plan-presentation-20150819.pdf. The county is currently working on a Prairie Habitat Conservation Plan (HCP) as part of the application for a federal "Incidental Take Permit" from the U.S. Fish and Wildlife Service. We plan to apply for an area-wide federal take permit so that builders with a county construction or development permit can build without running afoul of the federal Endangered Species Act. The habitat plan includes finding ways to mitigate for possible impacts to gophers or their prairie habitat, which has become increasingly rare. Today only about 3 percent of what was once 150,000 acres remains as pristine prairie.
One early estimate we heard from experts was that the full cost of mitigation could be $42,000 per acre. That number made all of us wince. It's big. That's why our community-based workgroups, staff and experts are researching all kinds of shared funding options.
The draft HCP will be released later this year for public review. The expected adoption timeframe is at least 18 months from now. There will be numerous opportunities for the public to comment and shape the plan. No decision has been made, yet. If you'd like to join in the problem solving, please do. Subscribe to our mailing list or watch the newspaper to be notified of dates and locations for upcoming meetings. We need all hands on deck working on this.
5. Thurston County is not the only county dealing with an endangered species act listing. We're not a test subject for the U.S. Fish and Wildlife Service. It may seem like we're inventing the wheel, but in fact, many other communities have worked through a federal Endangered Species Act listing. I encourage you to Google some of them like Edwards Aquifer in Texas, the Alabama Beach Mouse in Gulf Shores, Alabama or the NeNe Bird in Kauai. There are many more. Different jurisdictions handle a species listing in different ways. In Alabama, for instance, permit applicants have to bring their own federal incidental take permit to the city of Gulf Shores prior to applying for a development permit. We hope to avoid leaving our residents to figure this out on their own.
The bottom line is that it's easy to criticize people who are working to find solutions to these kinds of unpopular and gnarly issues. It's harder to figure out how permitting should function within this complex regulatory climate. I encourage you to get involved, and to read more on the county's website at www.ThurstonPlanning.org.
If we can agree on nothing else, I hope we can agree that the best solutions for Thurston county are the ones we will find together."
– Sandra Romero

– "Pocket gopher screening proceeds despite ruling"
"Gopher season is back.
Today [June 2], Thurston County announced that this summer's property review process for the Mazama Pocket Gopher will continue as normal — despite a ruling from the Growth Management Hearings Board.
From June 1 through Oct. 31, those requesting a permit or property review will get up to three site visits, each at least 30 days apart," quoting the Business Examiner.
Read more