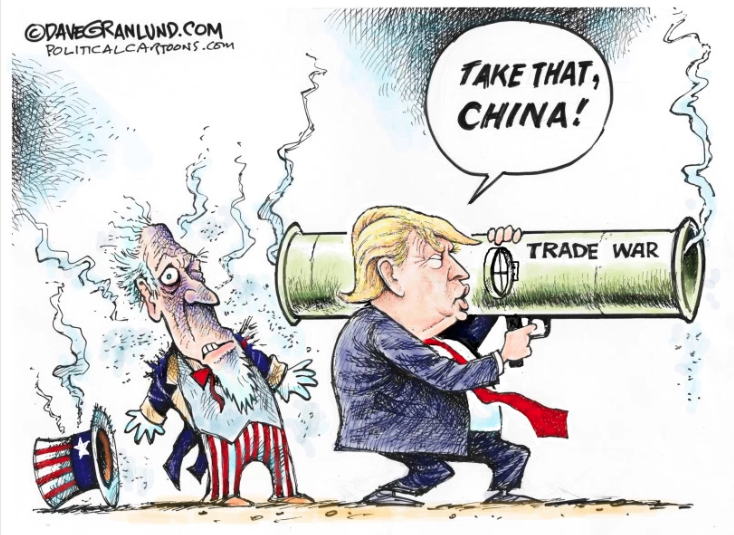 "A Gyrating Economy, and Trump's Volatile Approach to It, Raise Alarms"
" Mr. Trump's wild and unscripted pronouncements on Friday renewed questions about his stewardship of the world's largest economy even as he escalated a trade war with China before heading to France for a high-profile summit with the leaders of many of the world's other major industrial powers. 
"Even some of his own aides and allies were alarmed by his behavior, seeing it as the flailing of a president increasingly anxious over the dark clouds some have detected hovering over an economy that until now has been the strongest selling point for his administration. They privately expressed concern that he was hurting the economy and was doing lasting damage to his own prospects for re-election.
Mr. Trump has become one of the biggest sources of global economic instability after presiding over a period of growth and job creation," by Peter Baker, The New York Times.
"'Christian left' is reviving in America, appalled by treatment of migrants"
"American Christianity is more often associated with right-wing politics."
"I have studied religious thought and action around migrants and refugees for some time – including analyzing the New Sanctuary Movement, a network of churches that offers refuge to undocumented immigrants and advocates for immigration reform," by Beth Daley, The Conversation.
"Gay workers not covered by civil rights law, Trump admin tells Supreme Court"
"The Justice Department, in a brief submitted to the high court Friday, argued that Title VII 'does not bar discrimination because of sexual orientation,'" by By Brooke Sopelsa, NBC Out.
"How to Counter Trump's Disastrous Attack on Our Public Lands"
"Fossil fuel leasing on public lands is worsening the climate crisis. But there's hope," by Randi Spivak, YES! Magazine.
"We Can't Confront Climate Change While Lavishly Funding the Pentagon"
"The Pentagon is staring down the barrel of what could become the longest, hottest war in U.S. history. This titanic clash pits the largest military the world has ever seen against an omnipresent opponent that can marshal resources like no enemy it has ever encountered.
"That opponent is climate change, and according to a joint investigation by NBC News and InsideClimate News, the extreme heat it brings is already generating military casualties," by JP Sottile, Truthout.
"Trump's large union crowd at Shell was given the option of not showing up — and not getting paid"
"The choice for thousands of union workers at Royal Dutch Shell's petrochemical plant in Beaver County was clear Tuesday [Aug. 13, 2019] : Either stand in a giant hall waiting for President Donald Trump to speak or take the day off with no pay.
"'Your attendance is not mandatory,' said the rules that one contractor relayed to employees, summarizing points from a memo that Shell sent to union leaders a day ahead of the visit to the $6 billion construction site. But only those who showed up at 7 a.m., scanned their ID cards, and prepared to stand for hours — through lunch but without lunch — would be paid.
"'NO SCAN, NO PAY,' a supervisor for that contractor wrote," by Anya Litvak, Pittsburgh Post-Gazette.
"Is Trump's love affair with Fox News fading?"
"Last month after Donald Trump watched Fox News lob what he called "softball questions" at a Democratic lawmaker, the US president delivered a crisp smackdown of his favorite network: 'Fox sure ain't what it used to be,'" by France's AFP.
"U.S. Steel plans to lay off hundreds of workers in Michigan"
"United States Steel Corp will temporarily lay off hundreds of workers at its Great Lakes facility in Michigan in coming weeks, according to a filing the steelmaker made with the State of Michigan," by Reuters.
"Trump Steadily Fulfills Goals on Religious Right Wish List"
"After a flurry of recent actions, the Trump administration is winning praise from conservative religious leaders for fulfilling many of their goals," by the Associated Press.
"Budget Deficit on Path to Surpass $1 Trillion Under Trump"
"The federal budget deficit is growing faster than expected as President Trump's spending and tax cut policies force the United States to borrow increasing sums of money.
"The deficit — the gap between what the government takes in through taxes and other sources of revenue and what it spends — will reach $960 billion for the 2019 fiscal year, which ends Sept. 30. That gap will widen to $1 trillion for the 2020 fiscal year, the Congressional Budget Office said in updated forecasts released on Wednesday [Aug. 21]," by Jim Tankersley and Emily Cochrane, The New York Times.
Read more budget deficit to reach $1 trillion under Trump
"New CBO Budget Projections Show Toll of Budget-Busting Legislation"
"The Congressional Budget Office (CBO) just released its latest baseline, projecting high and rising debt made worse by recent legislation."
"In terms of annual borrowing, CBO projects deficits to total $960 billion (4.5 percent of GDP) this year, cross the $1 trillion mark next year," by The Committee for a Responsible Federal Budget.