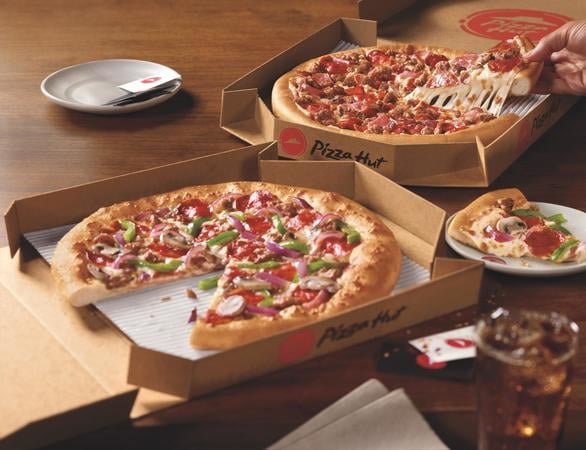 * Editor's note: In the early 1990s, Pizza Hut was the first national company and pizza restaurant to invest in Yelm, offering only take-out for many years, then moving into a larger facility with full sit-down and delivery service. Pizza Hut opened just prior to and next door to Subway where King Kronic is today, though before to such chains as McDonald's, Burger King, Starbucks, and Domino's Pizza!
"Yelm's Pizzeria La Gitana Serves Pizza With a Little Slice of Europe"
"Since Marian and Lumy Licxandru and Catalin and Carola Stanciu purchased Pizzeria La Gitana in 2011, the business has only thrived, branching off from the original Yelm location to an additional one in Olympia.
"'People come in and people say, 'This is Italy — this reminds me of Italy,' Marian Licxandru said. 'We take pride in that. What we do is we have Italian ingredients, organic ingredients. If you add good things together and then you add the warmth of the wood fire oven, chances of success are pretty high,'" by Daniel Warn, Nisqually Valley News.
"For 17 Years, Casa Mia Has Provided Fine Italian Dining for Yelm"
"For nearly 17 years, regional Italian food chain Casa Mia has been serving up hot, homemade food — chopped, baked and sautéed from a small kitchen in Yelm.
"Even today, the hometown franchise's mission for hospitable home-styled dining is greater than ever.
"'The Casa Mias are consistent. I think that we all support each other and we strive for good customer service and consistency within the food and the whole experience,' said general manager and Yelm franchise co-founder Diane Cole. 'I think the idea is to just give them an experience where they feel welcomed,'" by Eric Rosane, Nisqually Valley News
Blogger Klein is a patron of all 3 restaurants and provided the commemorative Wazzu (Washington State University) football helmet inside and above Pizza Hut's door, in honor of friend, mentor, and former WSU Football Coach Jim Walden, who recruited players from Yelm High School. Walden and Klein served on the University of Miami (FL) Football Team in 1973-1976 inclusive.