"I Predicted More Hate-Based Violence. El Paso Won't Be the End of It."
"President Trump has yet to apologize for painting people of color as outsiders and invaders."
"Three days before a mass shooting that killed at least 21 people in El Paso, I predicted in these pages that we were on the path to a frightening uptick in white nationalistic hate violence," by Frank Figliuzzi, in The New York Times. "Mr. Figliuzzi is a former assistant F.B.I. director for counterintelligence."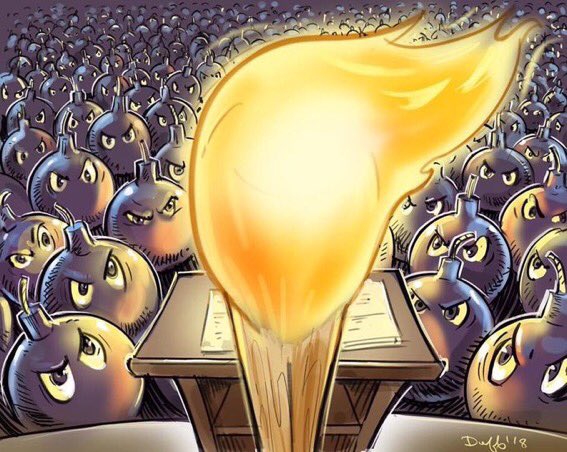 "Why some business leaders are speaking publicly about Trump"
"Columbia Sportswear CEO Tim Boyle has criticized the president for divisive rhetoric and Kind Bars founder Daniel Lubetzky has also criticized Trump for dividing the country following recent mass shootings. Both join Morning Joe to discuss. [August 8, 2019].
Click here to see the interviews.
"Editorial: As the El Paso massacre showed once again, white supremacy is the poison in our well"
"What's less well understood is the undeniable through-line to today's racial disparities in wealth and health and lifespan and other measures of well-being. That cannot be wished away or compartmentalized any more than the outbreaks of racial antagonism that occur far too often. Against that background, the current resurfacing of white supremacist ideologies is both shocking and predictable. Add in guns, and well, suddenly we have dead bodies in El Paso, in Gilroy, in Poway and Pittsburgh and Charleston and too many other places to list.
"White nationalism, or whatever you want to call it, is a serious and growing reality. Violence by white men who have been inspired by extremist ideologies make up an increasing share of domestic terror cases, the FBI says," by the LA Times Editorial Board.
"Opinions | Foreign countries warn about travel to Trump's U.S. Can you blame them?"
"Have we become a shithole country?"
Uruguay [Venezuela and Japan] seems to think so. Its Ministry of Foreign Affairs issued an alert after the El Paso and Dayton, Ohio, shootings for Uruguayan nationals traveling to the United States. It advises they "take extreme precautions in the face of growing indiscriminate violence, mostly hate crimes, including racism and discrimination, which killed more than 250 people in the first seven months of this year."
"Blaming the 'indiscriminate possession of firearms by the population,' it recommends everybody, but particularly children, avoid shopping malls, theme parks, religious activities, and cultural and sporting events. It warns about cities such as Detroit, Baltimore and Albuquerque, "among the 20 most dangerous in the world."
"Suddenly, we're the banana republic, and the rest of the world is warning about the dangerous and hate-filled place under President Trump's administration," by Dana Milbank, Washington Post.
"Trump threatens to 'reciprocate' countries that issue travel warnings to US"
"President Trump on Friday threatened to "reciprocate" travel warnings issued against the U.S. following a pair of mass shootings.
"Asked about his reactions to the travel advisories, Trump replied, "Well, I can't imagine that. But if they did that, we'd just reciprocate."
"We are a very reciprocal nation, with me as the head. When somebody does something negative to us in terms of a country, we do it to them," he added.
"Uruguay, Venezuela and Japan issued warnings this week after the U.S. experienced a pair of mass shootings last weekend that killed 31 people. Japan warned of 'the potential for gunfire incidents everywhere in the United States,' and described the country as a 'gun society,'" by Rachel Frazin, The Hill.