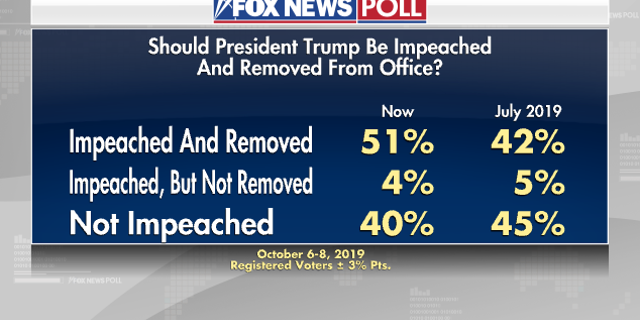 "Fox News Poll: Record support for Trump impeachment"
Editor's note: This poll is not from "Fake News," rather from the President's mouthpiece.
As was the case of President Nixon in 1974, regardless of Republican support for the President in Congress, Nixon's demise was from American citizens who elected those Republicans and the voters' voices that could no longer be ignored. The same occurrence is building now!
"Just over half of voters want President Trump impeached and removed from office, according to a Fox News Poll released Wednesday [Oct. 9].
"A new high of 51 percent wants Trump impeached and removed from office, another 4 percent want him impeached but not removed, and 40 percent oppose impeachment altogether. In July, 42 percent favored impeachment and removal, while 5 percent said impeach but don't remove him, and 45 percent opposed impeachment," by Dana Blanton, Fox News. Read more