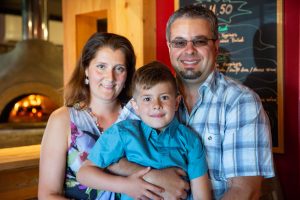 "Pizzeria La Gitana Believes in Authenticity, Quality and the Power of the Community"
"Community, authenticity and quality. Those are the closely held values at Pizzeria La Gitana. With locations in both Yelm and Olympia, the owners of Pizzeria La Gitana, Catalin Stanciu and Marian Licxandru, believe in their craft of providing the finest ingredients available and creating an atmosphere as close to an Italian pizza house as possible without having to board a plane. Pizzeria La Gitana's Yelm location has become a hub over the years, with many diners stopping for a leisurely break along the way to the movie theater, Mount Rainier, or while biking the Yelm-Tenino trail.
"Longtime friends and business partners, Stanciu and Licxandru co-own each pizzeria. Licxandru manages the Olympia location, while Stanciu manages Yelm. The entire operation is family run, with each member contributing their skillset. Stanciu's and Licxandru's wives are both involved in the behind the scenes operations of the restaurants, including administration and creating a menu of desserts.
"Originally from Romania, Stanciu had some initial reservations about opening up shop in a small community. Stanciu's apprehensions were soon cleared after meeting the people who live in and around Yelm."
"'We believe in the power of the community,' says Licxandru. 'We've seen the power of it. That's one of the beauties of being in Yelm and the community responds to what we sell, what we're doing. We have live jazz on the patios in the summer, because people say they walk in here and it's like Italy. And then, they have a taste of the pizza and it reminds them of Italy. And they linger. And that's the best compliment, someone who stays three hours in our restaurant.'
"To learn more about pizzeria selections or locations, visit the Pizzeria La Gitana website," by Molly Walsh, sponsored in Thurston Talk.