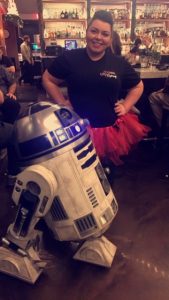 "Yelm Chamber Executive Director Line Critchfield is a Force for Community Unity"
"Had she stuck to her original plan, Line Critchfield would have become a home economics teacher. That would have been the Yelm community's loss – Critchfield is the Executive Director of the Yelm Chamber of Commerce and in the relatively short time she's been in charge, community involvement has surged as events like the recent inaugural Yelm Pub Crawl and Nisqually Valley Barbecue Rally have taken shape.
"'Line has pushed the Chamber into the 21st century,' says Amber Young, Community Engagement Specialist at America's Credit Union and a fellow chamber board member who serves on the activities committee with Critchfield. 'She's brought on processes to streamline everything and created a new level of organization. Many businesses that we may not have reached before are benefitting (sic) from being Chamber members,'" by Heidi Smith, in Thurston Talk.