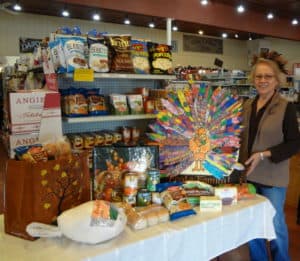 "Keep those Gobble Donations Coming!"
From Bounty for Families Gift of Gobble:
"Thank you to everyone who has donated to Gift of Gobble so far! We're happy to announce that we are over 1/3 of the way to our goal of $6,000 to feed 100 families this Thanksgiving. That means we have $3,865 to go and every bit counts. The simplest way to donate is online. Those of you who prefer to do things in person can bring cash, check or card to the Yelm Food Co-op. Once your donation is complete you can play pin the feather on the turkey – your own personal feather with the amount and your signature if you choose to add it.
"As a reminder, Gift of Gobble feeds 35 military families, 27 families through 9 local churches, 6 families through our local school districts and the rest are individual nominations. We appreciate your support!" Read more
Blogger Klein is an annual Gift of Gobble contributor since inception.