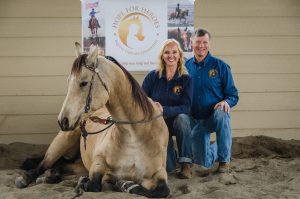 "At Hope for Heroes, horses are the therapists"
By Simon Del Rosario, KCPQ-13 TV News, Seattle.
"At Hope for Heroes Horsemanship Center in Yelm, military veterans learn that the horses are simply reflecting their own feelings."
"Veteran suicide is an epidemic in the U.S. According to the Department of Veterans Affairs, about 20 military members and veterans commit suicide every single day.
"The majority of U.S. veterans struggling with post-traumatic stress disorder choose not to get treatment through the VA. The nonprofit Hope for Heroes provides a different, free option for military members and veterans, one where the horses are the therapists," Read more