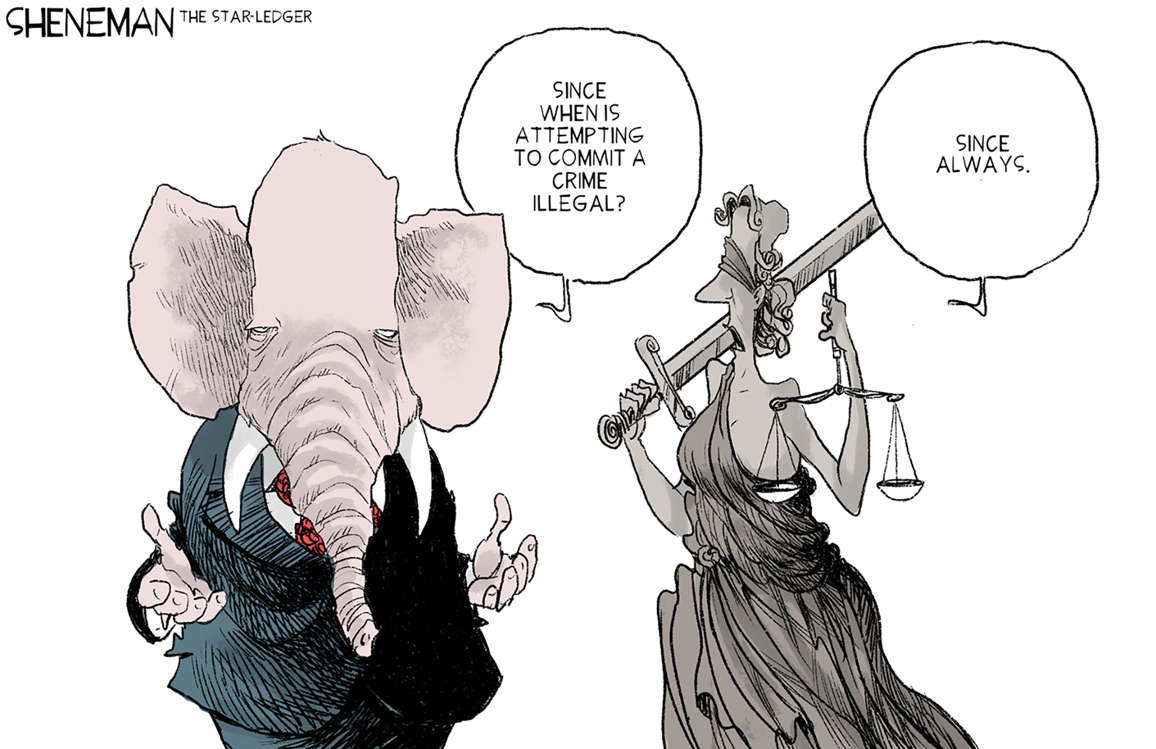 Editor's note: Port of Olympia candidate Helen Wheatley wrote after her recent,"We face unprecedented levels of outside interference and deliberately untruthful 'free speech' in the wake of the Citizens United court decision; the monetization of virtually all communication; and a crumbling "fourth estate" of mainstream media that leaves us all scrambling for trustworthy sources of information. Thank goodness our community is blessed with many dedicated communicators who do their work for the commonwealth, not for the almighty dollar." And so this blogger agrees, as I continue to share these important Sunday posts of the previous week's stories of President Trump's violating his oath to the Constitution of the United States and the effects of those actions. By Steve Klein, Host.
"'Presidents are not kings': judge says Trump can't block subpoena"
Click here for the story by Rachel Maddow, The Rachel Maddow Show, MSNBC. Read more of U.S. District Judge Ketanji Brown Jacksonn's 120 page ruling. Ed. note: Fortunately the Courts have been the one check to the Trump Administration continuing to ignore Congress's lawfully issued subpoenas.
"Robert Redford: President Trump's dictator-like administration is attacking the values America holds dear"
"This monarchy in disguise has been so exhausting and chaotic, it's not in the least bit surprising so many citizens are disillusioned"
"Our shared tolerance and respect for the truth, our sacred rule of law, our essential freedom of the press and our precious freedoms of speech — all have been threatened by a single man. by Robert Redford, actor, director, producer and activist. Read more
"What the country needs is a few good Republicans"
Read more of this story by John M. Crisp, syndicated columnist in The Boston Herald.
"'I don't know him': The many times Donald Trump's acquaintances suddenly became strangers"
Read more of this story by Michael Collins, USA TODAY.
"More Students Are Voting — But Republicans Are Trying to Get in Their Way"
Read more of this story by Candice Bernd, Truthout.
"Does the stream of GOP congressional retirements bode ill for Republicans — and Trump?"
Read more of the story by Andrew Malcolm, Special to McClatchy Newspapers.
Read more This President simply winks at war crimes, seattle times
"DOJ inspector general draft report says FBI didn't spy on Trump campaign"
"Trump has long insisted that his campaign was spied on," by Rebecca Shabad, NBC News. Read more
"Cleveland Newspaper Torches [Rep.] Jim Jordan [R-OH] For His Disgusting Behavior"
Click here for The Ring of Fire video.
"Trump Knew of Whistle-Blower Complaint When He Released Aid to Ukraine"
"White House lawyers briefed President Trump in late August about the complaint, people familiar with the matter said," by Michael S. Schmidt, Julian E. Barnes and Maggie Haberman, The New York Times. Read more
"All the SEAL's men: the Fox News campaign that made Eddie Gallagher untouchable"
"With each legal setback, Gallagher and his team found a way around the law via the one person with power over the military," by Andrew Dyer, The San Diego Union-Tribune.
"How Russian intelligence officers interfered in the 2016 election"
"Twelve Russian military officers have been indicted for breaking into the Democratic Party's computers, stealing compromising information and selectively releasing it to undermine candidates. Bill Whitaker reports on the case against them," by CBS News 60 Minutes. Click here
Letter to the Editor of The Olympian: "You need to apologize to Maria Yovanovitch, President Trump"
President Trump,
You need to publicly apologize to Maria Yovanovitch for the words "She's going to go through some things" in your phone call with Ukrainian President Zelensky. There are very negative connotations for an open-ended statement like this for a male in a position of power over a female. If you were to say this about my wife or daughter, I would request you be put on a restraining order. If anyone were to say these words about anyone in your family, I would hope they would minimally be put on a government watch list.
I don't care about Ambassador Yovanovitch's competence, it was wrong.
Your choice of words reminds me of the Hollywood Access tapes, in which you were recorded saying you could do anything you wanted to women, with no consequences. You apologized for that. An apology is supposed to be transformative – meaning, I did wrong, I will not do it again, and I will make restitution. With these words about Maria Yovanovitch, you failed.
You can do better, you need to do better, you need to publicly apologize, Mr. President.
Darryl Kaurin, Olympia
Read more