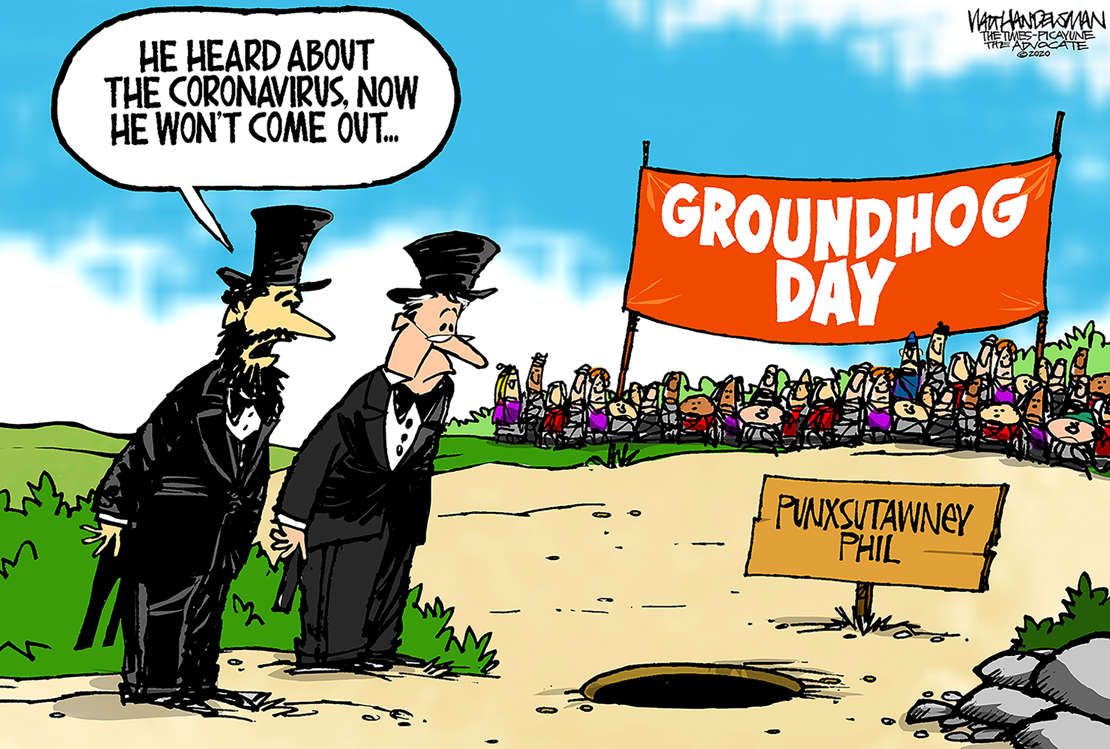 Trump's Economy he will tout today is not reaching growth targets
Editor's note: President Trump will be interviewed today by Sean Hannity on FOX News ahead of the Super Bowl's pre-game show (12:30pm PST). Trump has said he will tout his accomplishments today and at the State of the Union Address on February 4. Yet on this Groundhog Day, we have many more weeks of economic winter after last Friday's 600 point (2%) drop in the stock market. The Coronvirus, U. S. economic growth not achieving Trump's touted 3% targets, and a general world slowdown "shadow" one of Trump's achievements this Groundhog Day, the economy. Here are some key stories that underscore this issue:
"Donald Trump Promised to Eliminate the Deficit in 8 Years. So Far [through Sept. 30, 2019], He Has Increased it by 68%
By Shane Croucher, Newsweek. Read more
"Shrinking Influence of Central Banks Ends Decades of Business as Usual"
Editor's note: Many blog readers anticipate Trump will eliminate the Federal Reserve. He is not going to do that, for he does not have gold to back-up his empire that is built on debt. Eliminating The Fed would bring down his family's whole "house of cards" and he will not risk that for personal reasons!
By Greg Ip, The Wall Street Journal. Read more
"Trump blames Fed for slowing US economy"
"The president said the Dow would be higher if not for the Fed raising interest rates," by MSNBC's Morning Joe First Look. Click here
"Fed leaves key rate unchanged at low level amid global risks"
By Christopher Rugaber, Associated Press. Read more
"What 2019 GDP growth says about Trump's presidency"
"The U.S. economy grew 2.1 percent in the fourth quarter, closing out a year in which GDP decelerated to its slowest pace in three years. Joe Scarborough discusses why this is significant," January 31, 2020, MSNBC's Morning Joe. Click here
"After 2 Years, Trump Tax Cuts Have Failed To Deliver On GOP's Promises"
By Scott Horsley, NPR. Read more
"Follow the money on impeachment: Trump bought off the jury — and hints at bigger tax cuts"
"Republican senators are making millions off of Trump's tax cuts — and will repay him by betraying their oath," By Sophia Tesfaye, Salon Magazine. Read more
"These 91 companies paid no federal taxes in 2018"
"The report looks at the first year since the Tax Cuts and Jobs Act of 2017 went into effect," by Jesse Pound, CNBC. Read more
"Fed study: Trump tariffs backfired, caused job losses and higher prices"
By Brooke Seipel, The Hill. Read more
"Analysis: Trump's quest to shatter GOP economics reached its culmination in 2019"
By Jeff Stein, The Washington Post. Read more
"Last year, I predicted a recession in 2020. Risks have receded, but not for long (opinion)"
By Mark Zandi for CNN Business Perspectives, CNN. Read more
"Tariffs contribute to job losses in American manufacturing, Fed report shows"
By Martha C. White, NBC News. Read more
Trump announced he is looking at Social Security, Medicare cuts
"I'm not going to cut Social Security like every other Republican, and I'm not going to cut Medicare or Medicaid." — Donald Trump in 2015, lying as usual
"Toward the end of the year…we will take a look at [cutting Social Security and Medicare]." — Trump in 2020, betraying the American people as usual.
By Jeffrey Martin, Newsweek. Read more
"Eighth Case of Coronavirus Confirmed in U.S.; 'Unprecedented' Quarantine Ordered for Returning Americans"
By Ron Brackett and Jan Wesner Childs, The Weather Channel. Read more
"Dow closes down 600 points [January 31] on rising virus fears"
By Fred Imbert, CNBC. Read more
All U. S. scheduled airlines suspend service to China, affecting the economy
From Twitter. Read more
"As economy slows, Trump's Super Bowl campaign ad focuses on economy"
"The economy grew at its weakest rate of the Trump presidency in 2019 and is showing signs of deceleration. During the Super Bowl, Pres. Trump plans to debut a campaign ad touting his economic record. Alex Witt discuss with Zerlina Maxwell and Rick Tyler," from Weekends with Alex Witt on MSNBC. Read more