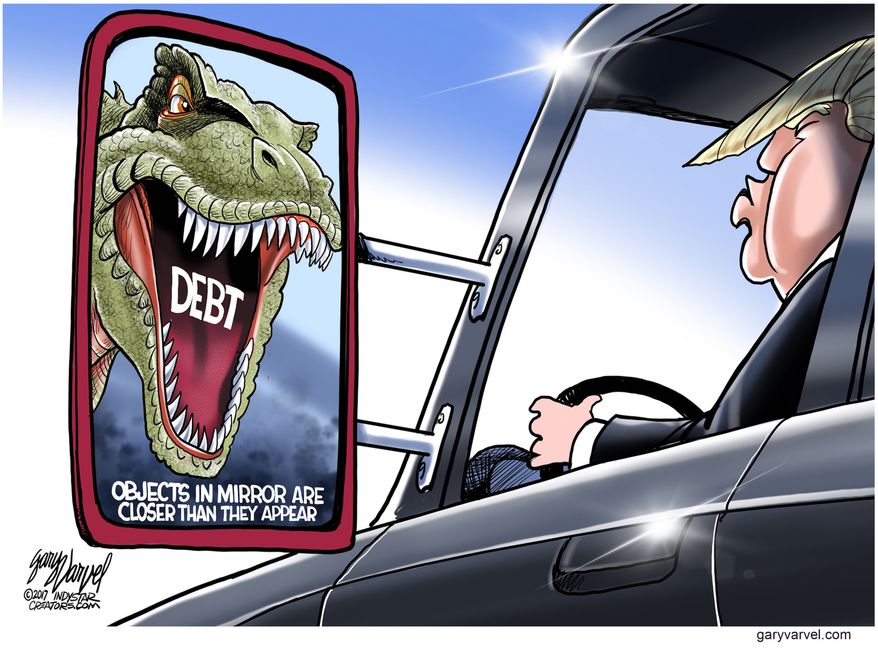 Editor's note: In balancing your home's own accounts, you would not tout how much money you have in the bank without considering your debt, would you? Yet, we have a President [and Congress] talking up a booming economy whole ignoring spending our nation to the brink of a debt burden that will be on the shoulders of our children and future generations for decades to come.
Trump abolishing the Federal Reserve and/or placing the U. S. on the gold standard are unlikely actions that his Mar-A-Lago members, Wall St. buddies, and his base are not going to embrace, for they would be unprepared for the economic turmoil that would ensue for several years, a disarray that would make The Great Depression seem like a walk in the park!
"Trump and the National Debt"
"Instead of Eliminating the Debt, Trump Will Add $8.3 Trillion," by Kimberly Amadeo, The Balance. Read more
"'Crisis mode': Coronavirus disrupts the heart of electronics manufacturing in China"
By Kif Leswing, CNBC. Read more
"Trump's new budget proposal expected to show how far he has moved away from some 2016 campaign promises"
"And the president's promise to eliminate the government's roughly $20 trillion debt within eight years has also gone unfulfilled. Instead, Trump has added almost $3 trillion to the debt in three years, and that number is only expected to balloon, according to nonpartisan estimates. Proposals to cut domestic programs have evaporated in massive year-end budget deals with Congress that have actually raised spending limits.
"Trump's first budget proposal relied on questionable math when it sought to eliminate the budget deficit after 10 years, but even that goal has slipped out of reach," by Jeff Stein, Erica Werner, The Washington Post. Read more
"Editorial: The real State of the Union you won't hear from Trump"
"[Trump's] protectionism and inconsistency have damaged some industries, leaving the rate of growth roughly where it was when he took the job. According to an analysis by the Tax Foundation, the president's ill-conceived imposition of tariffs has cost Americans $88 billion. His much-touted NAFTA 2.0 (the U.S.-Mexico-Canada Agreement) in the end will change relatively little. And while the economy is doing better for some people, it's doing a lot less well for others, exacerbating the nation's growing problem with income inequality," by The Los Angeles Times Editorial Board. Read more
"How a recession could doom Trump's 2020 reelection"
Editor's note: This August 2019 story is instructive, as this was prior to the coronavirus and world economic slowdown we have today.
"Economic forecasts are increasingly pointing in that direction. Here's what history tells us," by Aaron Blake, The Washington Post. Read more
"Financial records reveal Palm Beach County has spent $13.7MILLION on Trump's 27 trips to Mar-a-Lago since 2016 – and the federal government has only paid back $10million"
By Ariel Zilber For Dailymail.com. Read more
"WAPO: Secret Service charged as high as $650 per night for rooms at Trump properties"
"The Washington Post dug up records that surfaced a deep corner of the swamp. Katy Tur has more on that new report," by MSNBC. Read more
Also on MSNBC, Rachel Maddow's report on this issue: Click here
"Mnuchin Wants to Delay Disclosure of Trump Travel Expenses Until After Elections"
By Zachery Evans, National Review. Read more
"Trump's trade war is making Americans' incomes decrease, government report says"
"The average family's real income is dipping by $1,277, a CBO analysis says"
By Igor Derysh, Salon Magazine. Read more
"Trump Was Wrong — Drug Prices Are Still Not Going Down"
By Shefali Lufla, Kaiser Health News. Read more
"Long-term maintenance for Trump's border wall could cost billions, but government isn't saying"
By Nick Meroff, The Washington Post. Read more
"Tribes Decry Trump's Opening of National Monuments to Oil and Gas Development"
By Joaqlin Estes, Indian Country Today. Read more
"Refineries Are Spewing Cancer-Causing Benzene as Trump Slashes Enforcement"
By Mike Ludwig, Truthout. Read more