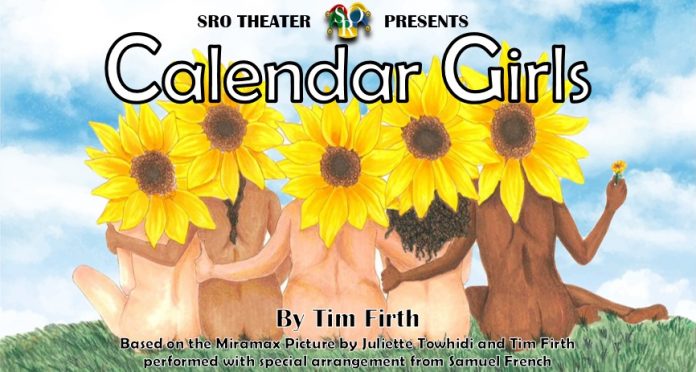 SRO Theater presents the heartwarming and funny play, CALENDAR GIRLS by Tim Firth. Directed by Dawn Emilia Young.
"CALENDAR GIRLS is a stage play by British dramatist, screenwriter, and songwriter, Tim Firth, based on a true story of eleven Yorkshire women of the Womens Institute (WI) who posed nude to produce a calendar to raise money for Leukemia Research. This story inspired by the 2003 film starring Helen Mirren and Julie Walters."
"The cast features women and men from all around our community to share the meaning of transformation and growing together," by SRO Theater. Read more
When: March 6-29 at 7:30 PM Fridays- Saturdays, 7:00PM Sundays
Where: SROs new Pop Up Black Box Theater, upstairs in the Wellspring Wellness Center, 9144 Burnett Rd SE, Yelm.
Tickets: General admission = $20, Senior/Military = $17.50, Student = $15.
Note: The air circulation is very modern and efficient, so should not cause concern in this setting. Filtered drinking water, plentiful clean restrooms available. A quality entertainment experience right here at home, and without the crowds!
Click here to purchase your tickets.
Show highlights:
Last night, Yelm's Blogger saw debut of CALENDAR GIRLS.
Director Dawn Emilia Young was beaming, and deservedly so!
The performers from our community were simply outstanding,
Huge shout-out to the stage hands and costume designers,
The Crew was superb in dovetailing scenes in a small space.
I commend Yelm's "Calendar Girls" for stepping out of their comfort zones to bring us their own poignant styles: Rae Simpson as Chris, Kelley Birdeau as Annie, Toni Montez as Cora, Anne Schuchmann and Molly Carmody as Jessie, Rebekah Bonnett as Celia, Michelle Gipson as Ruth, Dawn Wadsworth as Marie, Valerie Cawley as Lady Cravenshire, and Karie Fountain as Brenda/Elaine. [I was so excited to see my neighbor Val Cawley on-stage.]
Rounding out the cast were the men: Ed Thorpe as John, Joel Derefield as Rod, Matthew Tolar as Lawrence and Steve Harshfield as Liam.
The delightful manner in which each Lady of the Month melted into their roles amid what must have been much to personally confront, was nothing short of stellar. I am so impressed with each of them and gave a well-deserved standing ovation at the show's conclusion.
Editor's Note: I am elated that Yelm's Standing Room Only (SRO) Board of Directors was willing to take on this show, their first presented in the new Pop Up Black Box Theater. The craft folks and SRO cast and crew transformed a small space into a truly intimate theater experience that was pure fun for the entire audience. Producer Dave Champagne, Director Dawn Emilia Young, Marketing's Daniel Wyman and House Manager Hannah Longshore all greeted patrons with excitement and warm smiles. This show was executed by the cast in such a fun and loving manner while respecting the story, which permeated the entire room and continued to build through to the show's conclusion.
Director Young noted that many of the cast members have either had cancer themselves or have coped with it through family or friends. She believes the play authentically portrays the struggle people face when confronting the disease. I agree, which this cast conveyed with such grace and beauty!
I paused before the opening act and contemplated that this was the first SRO show of which I was aware without the huge presence of either former community theater director Nancy Tribush Hillman or Jayne of The Triad Theater. Their legacy continues in the fine work that SRO brings to the Yelm stage! BRAVO.
Click here to purchase your tickets.