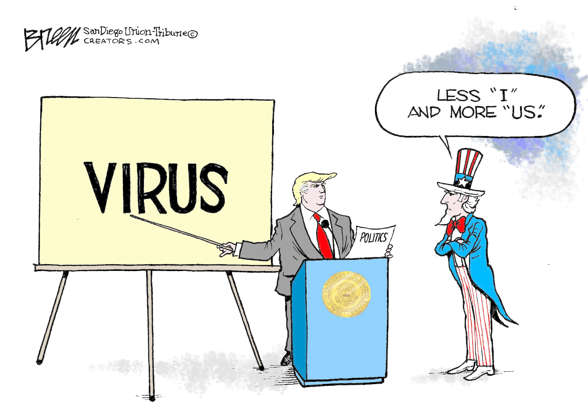 Editor's note: With the ramp-up of the coronavirus spread and uncertainties emanating from The White House responses, a sampling of important stories not making the front pages are below:
"Trump faces crisis of confidence and competence over coronavirus"
"Ron Klain, Pres. Obama's Ebola Czar, and Laurie Garrett, Pulitzer Prize-winning reporter covering global pandemics, say the Trump administration has not inspired confidence nor shown competence in how it is combating coronavirus," by The Last Word, MSNBC. Read more
"The Dow is up 38% since Trump's election, down from 61% in a matter of days amid sell-off"
By Thomas Frank, CNBC. Read more
"Donald Trump Jr. says Dems hope coronavirus 'comes here and kills millions' and ends his dad's 'streak of winning'"
Editor's note: This is really out of line!
By Jake Lahut, Business Insider. Read more
"[WA.] State Senate Operating Budget Adds $5M to Offset Business Losses Due to Coronavirus"
By The Chronicle [Centralia, WA.]. Read more
"Federal appeals court rules against Trump in two major immigration cases"
"A court once again blocked a Trump policy that requires asylum seekers to wait in Mexico, but then it put the ruling on pause," by Daniella Silva, NBC News. Read more
"An Astonishing Rate of Corruption': Trump Has Amassed 3,000 Conflicts of Interest Since Taking Office"
"Government watchdog CREW revealed that the president racks up the equivalent of two conflicts of interest per day," by Julia Conley, Common Dreams. Read more
Read more Clarence Thomas needs to recuse himself because his wife is a Trump sycophant
"Ginni Thomas reportedly leading purge of "disloyal" Trump aides"
"Justice Clarence Thomas' wife has compiled a list of "deep state" "snakes," to be replaced with Fox News pundits," by Igor Derysh, Salon Magazine. Read more
"Maya Wiley on Sotomayor raising concerns about Trump: She's got the receipts"
"President Donald Trump said two Supreme Court justices appointed by Democratic presidents should recuse themselves from cases involving him, apparently because of a recent dissenting opinion written by Justice Sonia Sotomayor. Maya Wiley says, 'She's got receipts on this because on the Obama/Bush Administrations combined, this happened about 8 times. And then the Trump Administration in 3 years … it's already been over a dozen,'" by Hardball, MSNBC. Click here
"House Dems demand answers on DOJ political interference"
"As Trump and Bill Barr politicize federal law enforcement in ways without modern precedent, House Democrats are starting to demand answers," by Steve Benen, NBC News. Read more
"It's illegal to destroy saguaro cacti. So why are they being removed for Trump's border wall?"
By Molly Hennessy-Fiske, The Los Angeles Times, Read more