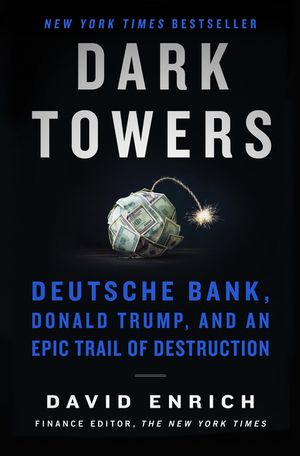 Editor's note: One of the books I finished reading during our shelter-in-place pause was David Enrich's Deutsche Bank, Donald Trump, and an Epic Trail of Destruction.
Enrich is currently financial editor at The New York Times based in New York and was previously financial enterprise editor at The Wall Street Journal.
When the reader puts together all of the documented facts of Enrich's meticulous research with critical thinking, one is left to realize this was real, and there was not one smoking gun, there were many small smoking guns.
Truthout's Henry A. Giroux quote on another topic is pertinent here: "Neoliberalism's emphasis on commercial values rather than democratic values, its virulent ideology of extreme competitiveness and irrational selfishness, and its impatience with matters of ethics, justice and truth has undermined critical thought and the power of informed judgment."
I came away with an understanding about good people engaging with the aphrodisiac of greed and power, who can be driven to cross their own boundaries for one more fix, and like a junkie, sacrifice their reputations, their companies, their families and in some cases their own lives, for the high of more risks.
Deutsche Bank loaned the Trump Organization the money to buy properties in Florida and elsewhere, and now the company's intended sale of the Washington, D. C. property is now on-hold due to the virus shutdown.
Click here to purchase this book and expect to be enlightened about the swamp President Trump intended to drain, yet could never do, because he depends on the swamp [Wall St.] to underwrite his own debt.
Book summary from Harper Collins:
"In Dark Towers, award-winning journalist David Enrich reveals the truth about Deutsche Bank and its epic path of devastation. Tracing the bank's history back to its propping up of a default-prone American developer in the 1880s, helping the Nazis build Auschwitz, and wooing Eastern Bloc authoritarians, he shows how in the 1990s, via a succession of hard-charging executives, Deutsche made a fateful decision to pursue Wall Street riches, often at the expense of ethics and the law."
Click here to purchase this book.