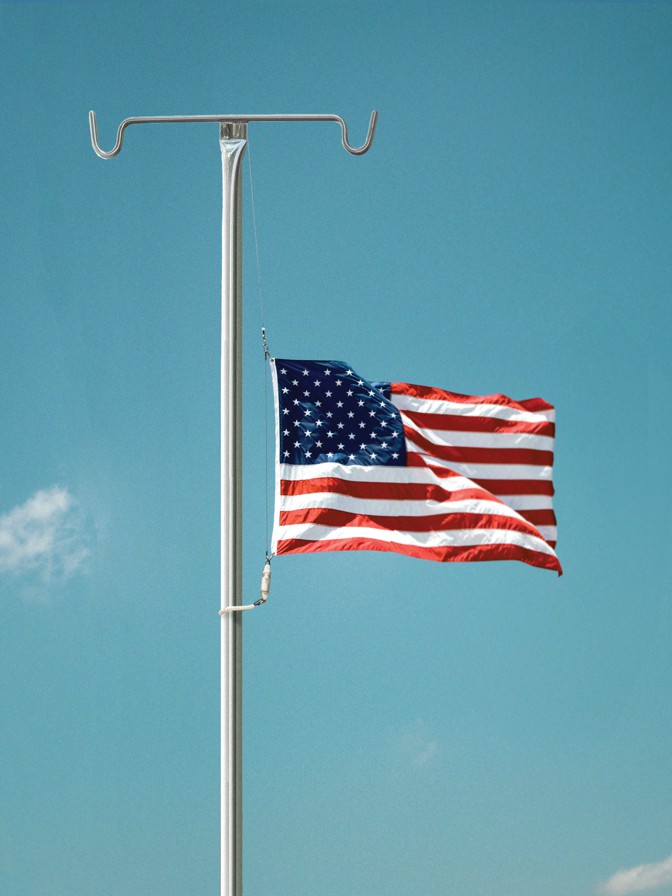 "We Are Living in a Failed State"
"The coronavirus didn't break America. It revealed what was already broken."
Editor's note: This is one article that should be read in-full by all Americans! Read more
By George Packer, staff writer at The Atlantic.
Selected excerpts below:
"When the virus came here, it found a country with serious underlying conditions, and it exploited them ruthlessly. Chronic ills—a corrupt political class, a sclerotic bureaucracy, a heartless economy, a divided and distracted public—had gone untreated for years. We had learned to live, uncomfortably, with the symptoms. It took the scale and intimacy of a pandemic to expose their severity—to shock Americans with the recognition that we are in the high-risk category."
"If the pandemic really is a kind of war, it's the first to be fought on this soil in a century and a half. Invasion and occupation expose a society's fault lines, exaggerating what goes unnoticed or accepted in peacetime, clarifying essential truths, raising the smell of buried rot.
"The virus should have united Americans against a common threat. With different leadership, it might have. Instead, even as it spread from blue to red areas, attitudes broke down along familiar partisan lines. The virus also should have been a great leveler. You don't have to be in the military or in debt to be a target—you just have to be human. But from the start, its effects have been skewed by the inequality that we've tolerated for so long. When tests for the virus were almost impossible to find, the wealthy and connected—the model and reality-TV host Heidi Klum, the entire roster of the Brooklyn Nets, the president's conservative allies—were somehow able to get tested, despite many showing no symptoms. The smattering of individual results did nothing to protect public health. Meanwhile, ordinary people with fevers and chills had to wait in long and possibly infectious lines, only to be turned away because they weren't actually suffocating. An internet joke proposed that the only way to find out whether you had the virus was to sneeze in a rich person's face."
"It turns out that scientific experts and other civil servants are not traitorous members of a "deep state"—they're essential workers, and marginalizing them in favor of ideologues and sycophants is a threat to the nation's health. It turns out that "nimble" companies can't prepare for a catastrophe or distribute lifesaving goods—only a competent federal government can do that. It turns out that everything has a cost, and years of attacking government, squeezing it dry and draining its morale, inflict a heavy cost that the public has to pay in lives. All the programs defunded, stockpiles depleted, and plans scrapped meant that we had become a second-rate nation. Then came the virus and this strange defeat."
"We're faced with a choice that the crisis makes inescapably clear. We can stay hunkered down in self-isolation, fearing and shunning one another, letting our common bond wear away to nothing. Or we can use this pause in our normal lives to pay attention to the hospital workers holding up cellphones so their patients can say goodbye to loved ones; the planeload of medical workers flying from Atlanta to help in New York; the aerospace workers in Massachusetts demanding that their factory be converted to ventilator production; the Floridians standing in long lines because they couldn't get through by phone to the skeletal unemployment office; the residents of Milwaukee braving endless waits, hail, and contagion to vote in an election forced on them by partisan justices. We can learn from these dreadful days that stupidity and injustice are lethal; that, in a democracy, being a citizen is essential work; that the alternative to solidarity is death. After we've come out of hiding and taken off our masks, we should not forget what it was like to be alone."