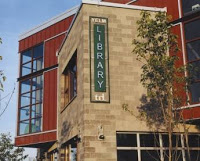 "WHO'S ON FIRST" IN RESEARCHING LIBRARY OPTIONS?
Editor's note: This is Part II of a 2 part series.
Something is amiss that Mayor Foster did not have his Councilor DePinto's back!
The council has discussed several times previously that the current library facility is no longer suitable due to space limitations and excessive annual expenses.
The council's Government Committee was tasked with the library issues, however they have not reported any work on this subject.
At the July 7, 2020 city council study session and July 14 council meeting, Council member Joe DePinto shared with the mayor, city administrator, council and public that he was exploring some alternatives to the current library because of an unacceptable doubling of maintenance expenses that impact the city's budget. He was on-the-record during the councilors' initiatives reports about his intent and received no comment or objections.
DePinto went ahead and scheduled an exploratory meeting with Timberland Regional Library (TRL) Executive Director Cheryl Heywood along with the Bellevue owners of the Nisqually Plaza about the feasibility of the library relocating to available space there.
DePinto said, "multiple council members have brought up the issue of high costs and lack of library updates (which is supposed to occur annually) over the past four years and it has never been addressed (which is why I took it upon myself to recently start the conversations)."
DePinto posted on his council Facebook page that TRL Exec. Dir. Heywood backed out of the meeting at the last moment on July 16, 2020, saying instead she would be meeting with the mayor and city administrator due to precedent. Then why did she schedule the meeting with DePinto in the first place? This while the Plaza owner from Bellevue was en-route to Yelm to meet!
I asked the Government Committee's Tad Stillwell for comment. He said, "The General Government Committee is leading the charge on how to proceed and have had talks with the library executive about reviewing the contract and foundational documents. The Mayor and city Administrator are also involved in these ongoing conversations." I asked Stilwell then why no there was comment and/or collaboration with DePinto? There still has been no response.
This leads to several key questions:
1. Why did the Government Committee not collaborate and/or support DePinto's outreach, or object if they had any issue? They had two opportunities at 2 council meetings.
2. Why were the Mayor and City Administrator silent at both sessions if they had an issue?
3. If the Mayor had no issue, then why did he not immediately call the TRL Executive Director and support his councilor as being authorized to gather information in meeting with her, after Foster was informed by DePinto about the turn of events?
DePinto filed this report on his council Facebook page that reflects a lack of communication and leadership from Mayor Foster. Why does this man not have his council members' backs? Something is amiss and one has to wonder if DePinto was "thrown under the bus." However, if so, why?
Playing politics on this issue does not serve the public's interests!