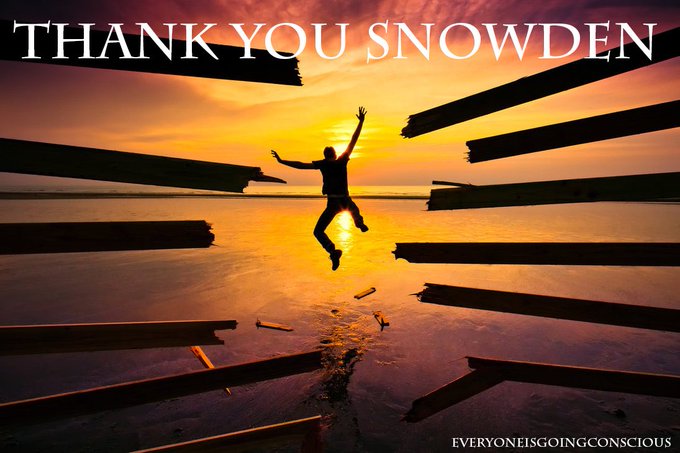 9th Circuit Court of Appeals: NSA's bulk collection of Americans' post-9/11 phone records was illegal.
Editor's note: After this ruling, Edward Snowden should be returned home and given a hero's welcome. I will be there when that occurs!
I always knew that someday, Snowden would be proven correct and exonerated!
Steve Klein, Yelm Community Blog Host
"A federal appeals just court ruled [Sept. 2] that the NSA's bulk collection of Americans' phone records was illegal. This ruling, which confirms what we have always known, is a victory for our privacy rights." Read more
"The ruling of the court demolishes the longest-held defenses of mass surveillance. After taking into account the best of the government's evidence, the court found the program unlawful and ineffective, establishing the government's public claims of 'necessity' were deceitful."
"Seven years ago, as the news declared I was being charged as a criminal for speaking the truth, I never imagined that I would live to see our courts condemn the NSA's activities as unlawful and in the same ruling credit me for exposing them.
"And yet that day has arrived." Read more
"United States v. Moalin – Ninth Circuit Opinion"
Click here to read the Court's document.
From Freedom of the Press:
"This judge repeatedly cites the Snowden disclosures, showing once again the power of a whistleblower driven by conscience and a press dedicated to the truth." Read more
"U.S. government debt will nearly equal the size of the entire economy for first time since World War II, CBO finds"
Editor's note: If anyone thinks they are better off under Trump, they have not considered the massive debt burden he has placed on their children, grand-children and beyond! And a massive Depression is not out of the question yet, either.
While the debt has grown from the pandemic, Trump's debt prior to the virus was of historical proportions!
"For the first time since World War II, the U.S. government's debt will roughly equal the size of the entire American economy by the end of this year, the nonpartisan Congressional Budget Office said Wednesday."
"The rapid change is largely due to the surge in new spending that the government authorized as it tried to control the economic impact of the coronavirus pandemic.
"By the end of 2020, the amount of debt owed by the United States will amount to 98 percent of the nation's gross domestic product, the CBO said. That is up from 79 percent last year. Total government debt will surpass the U.S. economy's size next year, the CBO said," by Jeff Stein, The Washington Post. Read more
Blogger Klein is a long-time ACLU member and contributor and an avid Edward Snowden supporter.