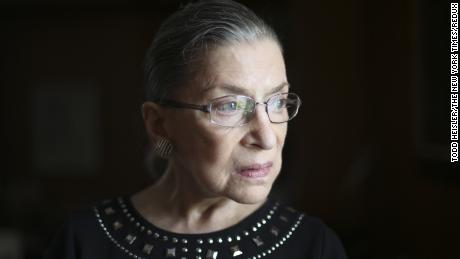 "Ruth Bader Ginsburg [RBG], a pioneer for women's rights and larger-than-life figure both on and off the bench, died on Friday"
Editor's note: Undoubtedly, The White House has been prepared for this with President Trump releasing his list our SCOTUS nominees.
Senate leader McConnell announced he will force through a Trump replacement vote, even though McConnell would not allow Obama's replacement (Garland) to be considered after Judge Scalia's passing during the 2016 election year.
This is a VERY sad day for America to lose this giant!
The future of the Court will be numerous split decisions IF the President is allowed a replacement appointment before Jan. 20th.
These issues will be under potential assault with a Trump replacement: women rights (Rose v. Wade), Obamacare, LGBTQ and workers rights, and electoral legitimacy, where Trump has said he will challenge the elections results if he loses.
Trump has said he will nominate Cotton or Cruz, so the Court will be solidly conservative, and change the dynamics of most Court decisions.
America should be very concerned the Court will be altered for generations!
Ginsburg dictated this statement to her granddaughter Clara Spera just days before her death: "My most fervent wish is that I will not be replaced until a new president is installed."
We should support the Senate to honor her dying wish.
RBG was a legend in the law and American history – a true hero!
By Elizabeth Chuck and Alex Johnson, NBC News:
"Supreme Court Justice Ruth Bader Ginsburg died on Friday due to complications of metastatic pancreas cancer, the court announced. She was 87.
Ginsburg was appointed in 1993 by President Bill Clinton and in recent years served as the most senior member of the court's liberal wing consistently delivering progressive votes on the most divisive social issues of the day, including abortion rights, same-sex marriage, voting rights, immigration, health care and affirmative action.
Along the way, she developed a rock star type status and was dubbed the "Notorious R.B.G." In speaking events across the country before liberal audiences, she was greeted with standing ovations as she spoke about her view of the law, her famed exercise routine and her often fiery dissents.
"Our Nation has lost a jurist of historic stature," said Chief Justice John Roberts. "We at the Supreme Court have lost a cherished colleague. Today we mourn, but with confidence that future generations will remember Ruth Bader Ginsburg as we knew her — a tireless and resolute champion of justice. [Click here for the Court's statement.]
"Ginsburg died surrounded by her family at her home in Washington, D.C., the court said. A private interment service will be held at Arlington National Cemetery."