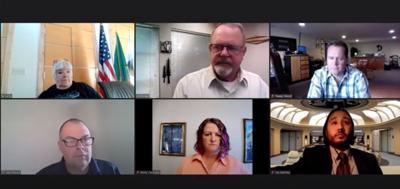 "Additional $167K in CARES Funds Available to Yelm Businesses, Residents"
Editor's note: I agree with Councilor James Blair, who told fellow councilors that he would like to see most, if not all, of those funds go to the people instead of to local businesses!
Council member DePinto noted this was not on the meeting's agenda prior to the meeting, so there was no time to assess and prepare to vote from an educated point of view at Tuesday's meeting. He was also correct!
These two councilors therefore voted "no."
And councilors who own businesses intending to be recipients of these business funds should have recused themselves, or publicly stated they would not apply for them!
By Eric Rosane, Nisqually Valley News:
"Approximately 35 percent [of $167,025 in CARES – Coronavirus Aid, Relief and Economic Security Act funding], or $58,459, will go into the Community Relief Fund, and the remaining 65 percent, or $108,566, will go to business grants.
"According to Mayor JW Foster, businesses are eligible this time for up to $7,500 in coronavirus-related reimbursements. If a business was previously paid out through this grant program though, they're only eligible for $7,500 minus whatever their previous grant was. Businesses also must reapply.
"Through the Yelm Community Relief Fund, families are eligible for up to $500 to assist with financial hardships brought on by the health crisis and recession.
"The Yelm City Council approved the allocations, which were not on the printed agenda though amended on at the start of the meeting, in a 5-2 vote Tuesday night. Council members James Blair and Joe DePinto voted against the measure.
"Shortly before the vote, Blair told the council he'd like to see most if not all of those funds go to the people instead of to local businesses."
"DePinto voiced concern with how the process went, specifically with bringing forward such a high-dollar initiative with little preparation time for the legislating body." [Ed. note: DePinto was correct that there was little prep. time to assess, as this item was not on the printed agenda and only amended to add this issue at the start of the meeting] Read more