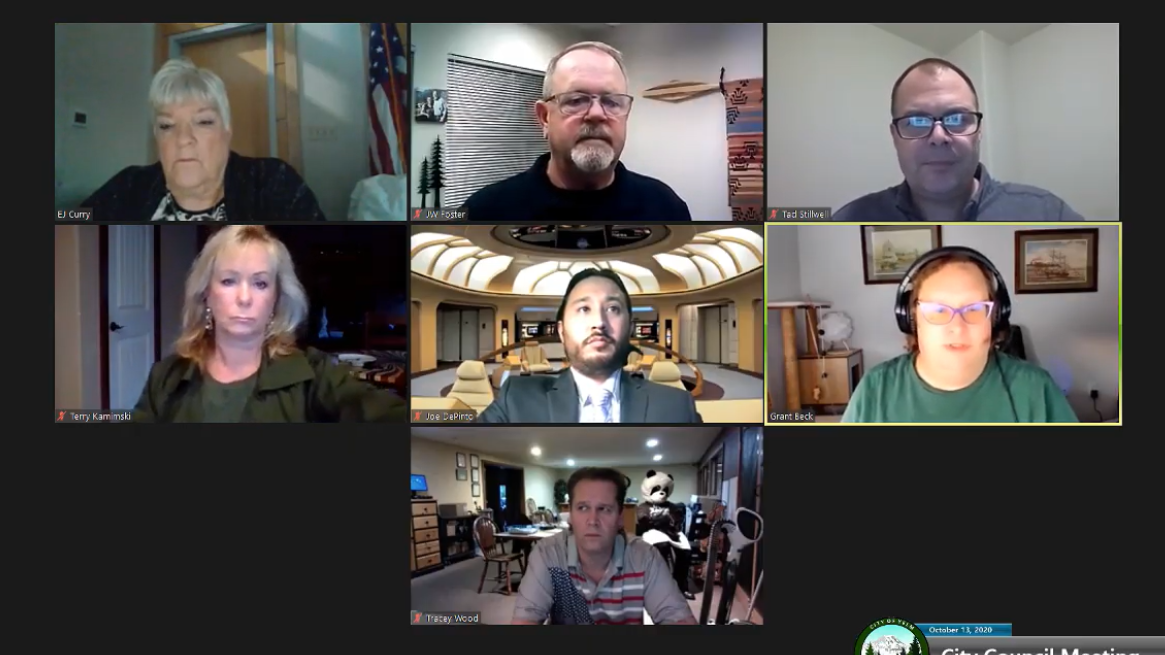 Story highlights
Council votes 5-1 to spend $135,000 in 2019 state funding for study,
Councilor DePinto was lone dissenter, citing "red flags."
DePinto: too soon to take on more debt after borrowing to buy new city hall/land.
DePinto: This is a large amount of money, "This is a big ask."
He also noted the lack of transparency, community involvement.
DePinto: "dangerous to move on with the project, especially with the long term financial health of the city in question due to the coronavirus recession."
Bottom line: The 2008-2009 city council overspent as The Great Recession was taking hold, which stymied their budget in 2009, the effects of which Yelm is still feeling a decade later, while Public Works maintenance/upgrades were deferred.
This council has been told the city requires between $15-$24 million to upgrade the water/sewer system. This while the city is accepting applications for major housing developments on the hope the city will be granted new water rights soon. Now how is the Public Works Dept. going to handle hundreds of new single family dwellings when their systems are so stretched already?
The council did not consider the costs of maintenance for this new building and those operations expenses may be too much to even move forward with this study, something they did not consider when they authorized purchase of a new library building here either. The city is still paying those annual fees for many more years from that debacle.
Yelm has not yet acquired the land where they wish this building to be located!
Why was Councilor DePinto the ONLY council member demonstrating any fiscal restraint due to uncertainties coming from the third peak of the pandemic? Why are this council's priorities so misplaced? The state legislative funding does not need to be spent now!
Yelm Council Passes Design, Cost Estimate Agreement for Educational Center and Business Incubator
By Eric Rosanne, Nisqually Valley News:
"The Yelm City Council on Tuesday, Oct. 13, voted to approve Mayor JW Foster entering a $134,641 contract with BCRA Design to prepare a conceptual design and cost estimate for a proposed educational center and business incubator to be built on the corner of Third Street and Washington Street.
"The study, which is being paid for exclusively through state legislative funding the city received during the 2019 session, was passed 5-1 by the council during a regular business meeting, with council member James Blair absent for the vote."
"Council member Joe DePinto, who was the lone dissenting vote on the contract, said the action "draws red flags" especially so soon after the city made a purchase on its current city hall and the property.
"'Regardless, I do believe this is going to cost us a lot of money, and for a study to show us it's going to cost us a lot of money, I urge council to show some restraint here,' he said. 'This is a big ask, I believe.'
"In a followup interview with the Nisqually Valley News, DePinto, an overall opponent of the project, added that he feels there hasn't been enough feedback from the community at this point to continue with the project.
"'When they went out for this, personally, I feel that there wasn't as much transparency,' he said. 'This just sets the wheels in motion to go through with it.'
"He also said that while he can understand the city using the legislative funds that have already been awarded, it's dangerous to move on with the project, especially with the long term financial health of the city in question due to the coronavirus recession." Read more