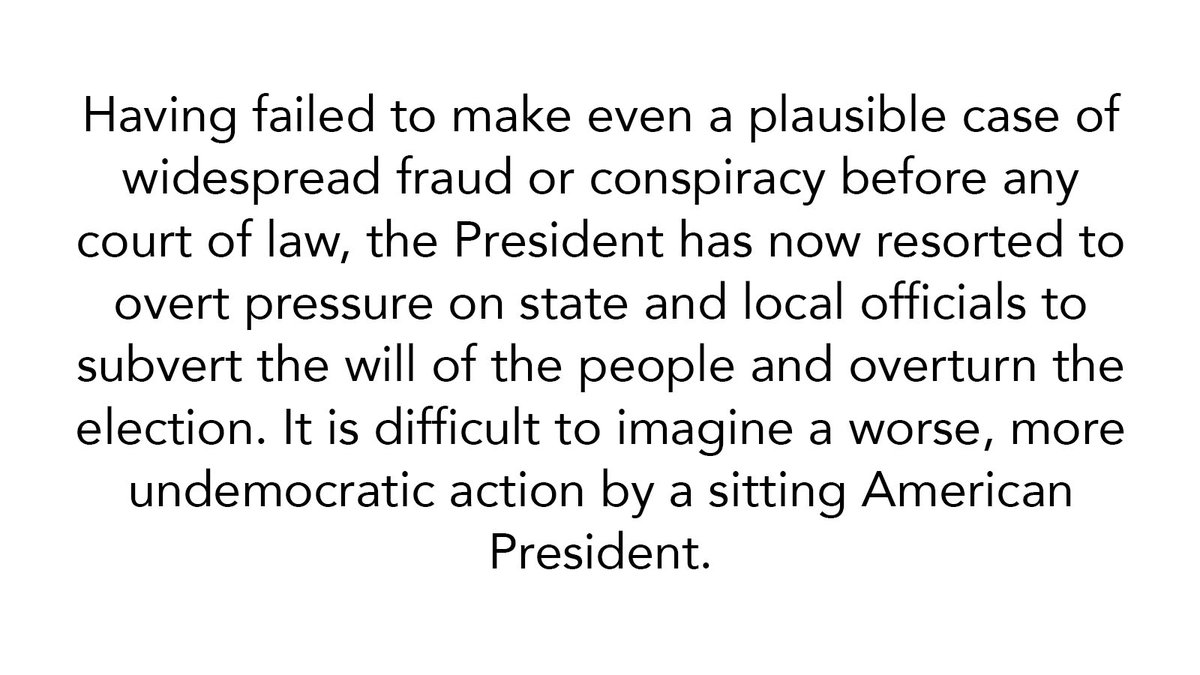 ** SELECT REGIONAL AND NATIONAL NEWS **
The New York Times: Why Trump's Attempts to Overturn 2020 Election Are Unparalleled in US History
Judges toss Republican lawsuits Thursday in Arizona, Pennsylvania and Georgia
Trump campaign drops Michigan ballot lawsuit
Gov. Inslee announces cap on third-party delivery fees to help restaurants
Thurston health officer issues reminder about gatherings as COVID-19 cases grow – Click here for her video.
JOLT News: Thanksgiving week will push airport crowds to pandemic highs
Seeking to reduce wait times, Providence diverts some virus testing to its clinics
CDC recommends staying home for the holidays — Here's what to do if you may cancel your travel plans
Facing increasing criticism, … legislators [including some from WA.] defend Hawaii trip during COVID-19 surge
Reuters Exclusive: U.S. investigators were told to take 'no further action' on Caterpillar, ex-client of Barr
Jordan Klepper Takes On The Million MAGA March from The Daily Social Distancing Show
Video: The Social Dilemma, Explained
Walmart and McDonald's have the most workers on food stamps and Medicaid, new study shows
How to be alone during these challenging times
Georgia Senator David Perdue profited from a Navy contractor's stock while overseeing the Naval fleet. [Ed. Note: Is this a surprise from this man? NOT! Perdue is a candidate in a Jan. election runoff.]
Arizona Secretary of State Katie Hobbs released this statement in response to ongoing and escalating threats of violence directed at her family and her office.
Joe Biden turns 78 Friday, set to be oldest US president in history
** CORONAVIRUS NEWS **
Nearly one out of four sailors from the Navy destroyer USS Michael Murphy test positive for Covid
Higher viral load more deadly for COVID-19 hospital patients, UW analysis finds
States that imposed few restrictions now have the worst outbreaks.
Remember when Ted Cruz swore we'd learn COVID-19 was a Democratic hoax after Biden won?
** TRUMP NEWS THURSDAY **
'Orderly transfer': GOP senators inch toward acceptance of Trump defeat
Trump's team prepares for election fight to end in December – Some aides and allies are trying to persuade the president to begin making post-presidency plans.
Wayne County Republican who asked to 'rescind' her vote certifying election results says Trump called her
Trump to meet with GOP state lawmakers [to intimidate them] in effort to override election loss
Mary Trump: 'Worrisome' that so many in power willing to go along with Trump's anti-democratic plans
Georgia's Secretary of State Was Pressured by Trump Demands Before Election
Georgia hand tally of votes is complete, affirms Biden lead
Trump's election lawsuits plagued by elementary errors
Jason Johnson: We're lucky that the 'autocrat in the Oval Office was too incompetent to pull off this coup'
Trump International Hotel Washington DC sale put on indefinite hold – "Faced with a $100 million loan from Deutsche Bank on the property and continued losses, the Trump Organization may end up either having to subsidize the business for years to come, or default on the loan and hand back the property, according to industry executives."
Ivanka Trump calls legal inquiries into Trump business political 'harassment' [Ed. note: "the probes now include tax write-offs that appear to involve her."]
McConnell warns Trump troop drawdowns could repeat 'humiliating' fall of Saigon
Trump and allies have sought to exclude 1 of every 10 votes in key states
OAN CEO Says Biden Will Face Charges for Voter Fraud Despite Most Claims Being Debunked [Ed. note: This network could become the new Trump platform post-Inauguration.]
Trump's election tactics turn from courts to a Bannon strategy of chaos