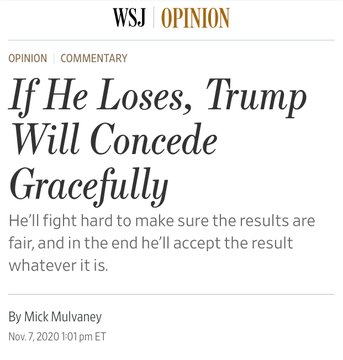 *** THE TRUMP CHAOS IN RECENT DAYS ***
WaPo's David Ignatius: Until Biden's win is certified, the U.S. remains vulnerable [scroll down for the text]
Trump vowed to drain the swamp. Then he granted clemency to three former congressmen convicted of federal crimes.
Trump administration pushes forward on $500 million weapons deal with Saudi Arabia [Ed. note: uh-huh – and what about Khashoggi?]
Trump's private bankers resign from Deutsche Bank
Trump's old tweet suggesting Clinton should accept defeat 'with dignity' returns to haunt him
WaPo: It's time for Mike Pence to choose: Trump, or the truth
Politico: 'Complete clusterf—': Trump leaves Washington in limbo
As Trump tries to overturn the election, his allies are focused on his legacy, future
Trump campaign suffers another legal setback in Wisconsin case on Christmas Eve
Trump Warns Republicans Who Didn't Back Election Fraud Claims: 'I Will NEVER FORGET!' [Ed. note: This man is a thug?]
The White House emailed staff instructions on how to clear out their offices before Biden's administration, then reversed it hours later
Judge declines to enforce subpoenas seeking access to voting machines and records in Maricopa County, AZ.
SLATE: Trump's Coup Attempt Could Cost Republicans the Senate